Young Volunteer makes big impact in Loughmacrory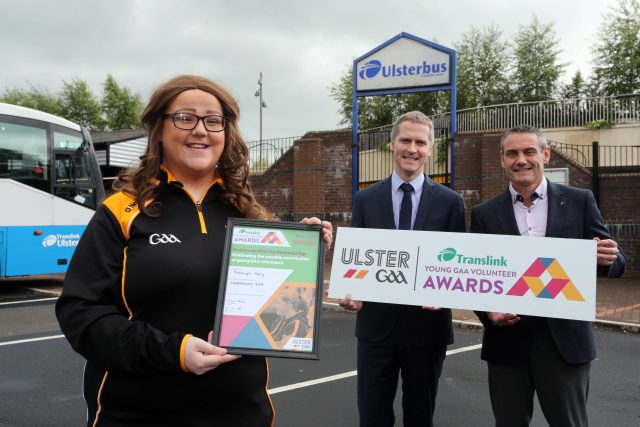 Pádraigín Kelly from Loughmacrory GAA has been awarded the prestigious Translink Young GAA Volunteer Award for May. Following a high standard of nominations from Ulster GAA clubs, judges were struck by Pádraigín's commitment to volunteering within her club across a range of areas impacting on many club members.
At 20 years old, Pádraigín Kelly is currently in her 3rd year serving on Loughmacrory GAA Committee which is quite remarkable give her young age and factoring in that she is currently a first year University student in Belfast.
Ulster GAA Treasurer Ciaran McLaughlin presented Pádraigín with her award along with Sean Falls, Service Delivery Manager, Translink at Omagh Bus Station. He stated, "We have been impressed by Pádraigín's commitment to volunteering with her club Loughmacrory. For someone so young, she makes a very positive impact on her club and its members. Through her volunteering experience she is developing key skills and knowledge that will set up her well in the future. I congratulate Pádraigín and all the young nominees this month who are doing tremendous work in their local GAA clubs."
Speaking following conferment of her award, Chairperson of Loughmacrory GAA Stephen McCullagh said, "Pádaigín continues to contribute immensely to our Club. In her role as catering officer she has carried out her duties making refreshments after our home games as well as after Senior training every Tuesday night. As well as this Pádraigín is on our fundraising committee which is currently involved in organising our Annual Big Breakfast to raise much needed funds for Youth Development within the Club. Additionally she also sells Club Lotto at our home matches and is also our Cultural Officer which involves organising and training all our Scor Sinsear and Scor Na nÓg participants.
"Pádraigín's commitment to our Club is unquestionable and she offers of her time freely to the benefit others. Her hard work and dedication is greatly appreciated by all our Club members and she also gets regular praise from opposing teams for the refreshments provided after our games."
Sean Falls, Service Delivery Manager, Translink added, "Young people like Pádraigín make an enormous contribution to the GAA in many of the local communities we serve, and we are delighted to partner up on this scheme to recognise those efforts. On behalf of Translink I'd like to congratulate her on this much deserved award. The calibre of those nominated was extremely high, so this recognition is a real credit to Pádraigín's hard work and the impact she makes on her club and the community."
Congratulations to all the May nominees including: Michael Fitzpatrick (Mayobridge GAC), Cliona Beggan (Fermanagh GAA), Clíona Fowler (St Joseph's GAA Ballycran), Laura Vernon (Ardoyne Kickhams Ladies GAC).
For more information on the Translink Young GAA Volunteer Awards go to: www.ulster.gaa.ie/youngvolunteeraward