Banbridge Cúchulainns represent Ulster GAA at the All Britain Competition 2017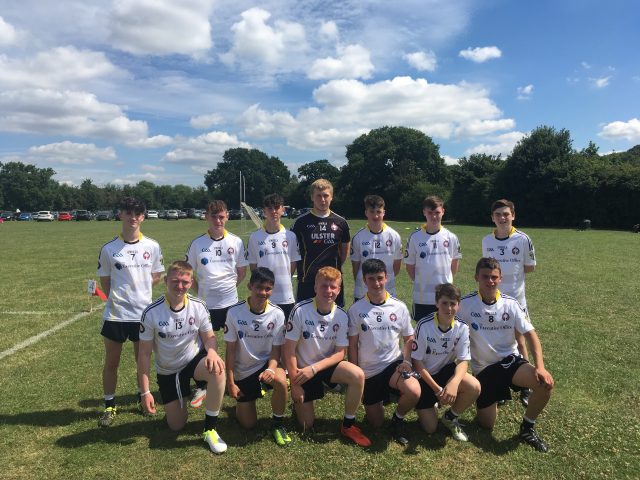 Following participation in the annual Cúchulainn Cup, Banbridge Cúchulainns were selected as the team to travel to London and represent Ulster GAA in the All Britain Competition held in Greenford on Saturday 8th July.
Ulster GAA place great value on the Cúchulainn project which is their flagship cross-community project through which to engage people not traditionally associated with Gaelic Games. Schools from the maintained, controlled, and integrated sectors are invited to participate in making-up a team from their town; competing in the annual Cúchulainn Cup Blitz which takes place in the spring-time each year. Pupils from Banbridge High School, Newbridge Integrated College and St Patrick's College made up the Banbridge team and they came together for a series of training sessions during May and June in preparation for the trip. The team travelled to Dublin in late June where they had an opportunity to train in Parnell Park, meet GAA Director General Paraic Duffy, and have a tour of Croke Park.
Speaking at the competition in London, Ulster GAA President Michael Hasson said, "The Cúchulainn initiative continues to be Ulster GAA's flagship Cross Community Project which uses Gaelic Games to break down barriers and build community relations in the education sector. Ulster GAA is committed to the development of a shared future based on tolerance and respect for the differing cultural traditions that share our community.
"This year we were delighted to include the London trip for Banbridge Cúchulainns as it provides a unique opportunity to bring together young men from across the different backgrounds to travel and represent their families, their schools, their communities and their county. Many new friendships have been forged during this trip and that really goes to prove the strength of sport in building Peace and Reconciliation."
Competing at the U16 level, the Banbridge Cúchulainns faced teams from Gloucestershire, Herefordshire, Lancashire, London, and Warwickshire. Despite being a team made-up of players who had little experience playing Gaelic games, the Banbridge Cúchulainns represented themselves with distinction showing some incredible skills, passion, and team-work as they came up against club teams who have had years of experience playing together.
The real value of such an experience was profoundly seen on the young men, as they forged meaningful and lasting friendships. Praise must go to the school-teachers who accompanied their pupils, making it possible for the young men to have such an experience.