Ulster GAA gearing up for Irish Language Summer School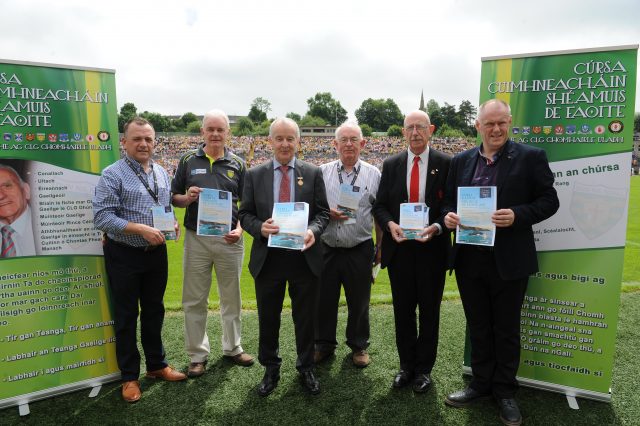 Ulster GAA are planning for their largest ever Irish Language Summer School at Downings from 17th to 21st July 2017.  The Séamus de Faoite Course is in its 29th year and once again offers GAA members an opportunity to learn and develop their skills and use of the Irish Language in one of Donegal's Gaeltacht villages.
Ulster GAA President Michael Hasson who will be attending the summer school said, "The week following the Ulster Football Final provides an opportunity for much enjoyment in the relaxed atmosphere at this well organised week of cultural activities. This is the traditional date where many congregate with a mutual love of the Irish Language, song and dance.
"This summer school has grown from strength to strength over the years and allows GAA members an opportunity to develop their Irish Language completely free of charge.  This year we will be delighted to welcome GAA President Aogán Ó Fearghail, who is a Gaelgoir himself, and grassroot GAA members will have the opportunity to converse with him in Irish."
Chair of the organising committee, Fergus McGee said, "The Séamus de Faoite course offers something for everyone, regardless of their ability in the Irish Language.  We will have classes for beginners, for those with a reasonable level of Irish and classes for those with a higher level of conversational Irish. There will also be singing and céilí dancing classes each evening followed by entertainment every night which will allow participants to use the Irish Language in a fun and social setting.
"We encourage as many adult GAA members to register for this first class Irish Language Summer School so that they can join us in a celebration of our rich culture, heritage and language."
This course is FREE to adult members of Cumann Lúthchleas Gael who wish to improve their Gaeilge or begin to learn the Irish language.  For more information please log onto: http://ulster.gaa.ie/wp-content/uploads/2017/05/Cursa-de-Faoite-2017.pdf or contact organisers Fergus Mac Aoidh (Cathaoirleach) – 00353 (0) 86 854 4445 E: fermcgee@gmail.com or Séamus Mac Giolla Phádraig (Cláraitheoir) – 0044 (0)78 1033 1564 E: s3amusmgp@gmail.com