Ulster Conferences 2016
O'Neill's Ulster GAA Coaching & Games Development Conference 2016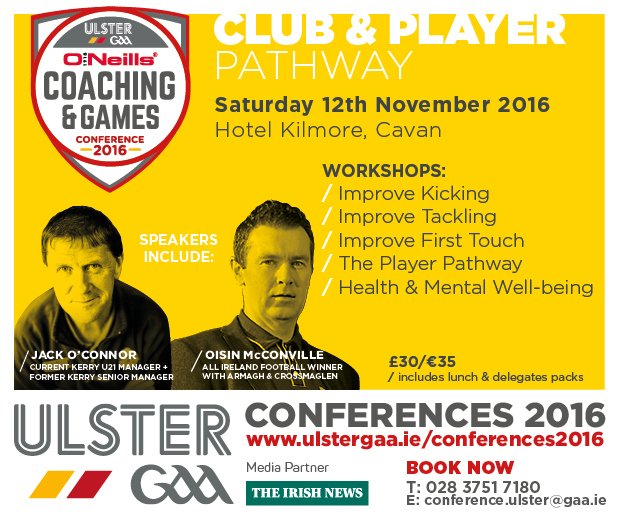 The 13th O'Neill's Ulster GAA Coaching & Games Development Conference will take place on Saturday 12th November 2016 in the Kilmore Hotel, Cavan.
The theme of this year's conference will be 'Club & Player Pathway' and will focus on the development of the key skills required by coaches to develop their players as they progress along a pathway from Child through to Youth and Adult players. Consideration will be given to age related games, physical, technical, tactical development and health related elements of the performance pathway.
The delegate cost of £30/€35 includes lunch and a delegate pack of O'Neills merchandise.
Speakers include: 
Jack O'Connor – Current Kerry U21 Manager and Former Kerry Senior Manager.
Oisin McConville – All-Ireland Football winner with Armagh & Crosmaglen.
Brian Fenton & Ciaran Kilkenny – All Ireland Football winners & All Stars with Dublin
Workshops include:
Improve Kicking
Improve Tackling
Improve First Touch
The Player Pathway
Health & Mental Well-being
Book your place online now – O'Neill's Ulster GAA Coaching and Games Development Conference Online Booking.