Ballinderry take Ulster League Title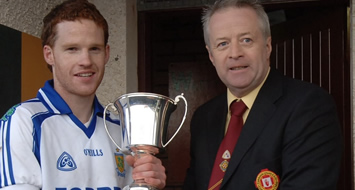 In cold conditions at Glen Maghera, John Mitchell's Glenullin lost their SportTracker Ulster Club League title to Shamrocks Ballinderry.
SportTracker Ulster Senior Football League Final
Ballinderry 0-13 v 0-10 Glenullin
Glenullin made the better start leading by 4 points to 1 after the end of the 1st quarter.
The second quarter saw Ballinderry turn the game around to go in at halt time with an 8 points to 5 lead.
Conleith Gilligan the most prominent player on the field made a telling contribution during this period.
An evenly contested second half saw Ballinderry retain their three point advantage at the end of the game.
Top scorer for Glenullin was Paddy Bradley with four points, while the 'Man of the Match' Conleith Gilligan notched seven points for Ballinderry.
Martin McAviney, Cisteoir Comhairle Uladh presented Jarlath Bell with the Ulster Club League Trophy at the conclusion of a well contested game.
Declan Flanagan presented the 'Man of the Match Award' to Conleith Gilligan.
Ballinderry: Michael Conlon, Kevin McGuckin, Jarlath Bell (C), Declan Bell, Brendan Conway, Ronan McGuckin, Conor Nevin, James Conway, Enda Muldoon, Conleith Gilligan, Darren Conway, Ronan Devlin, James Bateson, Brian McGuckin, Fabien Muldoon
Subs: Raymond Wilkinson for Darren Conway, Ryan Scott for Declan Bell, Gerard Cassidy for Fabien Muldoon
Glenullin: Shane O'Kane, Barry Mullan, Brian Mullan, James McNicholl, John Heaney, John O'Kane, Gerard O'Kane, Neil Mullan, Dominic McIlvar, Conrad Bradley, Donal Boylan, Donal McNicholl, Dermot O'Kane, Paddy Bradley (C), Eoin Bradley
Subs: Eunan O'Kane for John Heaney, Stephen Mullan for Brian Mullan, Basil Rafferty for Donal McNicholl
Referee: Sean Gilsenan (Monaghan)
Related: