GAA President's Awards 2008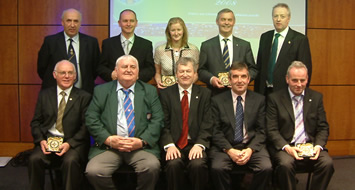 The Awards were first presented in 2004 to acknowledge the achievements and commitment of individuals throughout the Association by providing formal recognition of their work for and dedication to the GAA. Among the winners are former players, coaches and officials from across the country who have contributed extensively to the GAA as well as to Handball, Ladies Football, Rounders and Camógie.
President of the GAA, Mr Nickey Brennan, extended his congratulations to the winners of the awards and paid tribute to their outstanding contributions to the Association in various capacities. He said: "This year's winners have demonstrated in their own individual capacities the true spirit of volunteerism through their involvement with their Clubs and at County or Provincial level. The Association has always been fortunate to possess outstanding individuals who have served the Association with distinction and these awards are an opportunity to recognise the dedication and commitment of our members in a formal manner".
The Award winners were honoured at a Banquet in Croke Park after the AIB All Ireland Club Finals on Monday March 17th.
The 2008 President's Award winners are:
Declan O'Neill (Tyrone)
Declan O'Neill has served the Gaelic Athletic Association in almost every conceivable capacity in a forty 40 year involvement with Dromore, St Enda's and Tyrone. A former chairman of Tyrone County Board he has served on national committees and in recent years, he has devoted his energies to the Ulster Council, whom he continues to serve to this day.
Peter Sherry (Monaghan)
A former player, referee, club officer and County Board Chairman, he played an enormous role ensuring that all club grounds in County Monaghan had their legal formalities (Trustees, Vesting, Land Registry) brought up to date safeguarding both the use and ownership of G.A.A. property in County Monaghan. An onerous yet essential task requiring particular skills and patience, the Scotstown clubman remains deeply involved in the GAA.
Brian McEniff (Donegal)
The Bundoran man is well known for guiding Donegal to their first ever All Ireland title in 1992 and has achieved renown as an All Star winner and as a former manager of the Ireland International Rules team. As an administrator he has served as county chairman in Donegal and is currently the county's Central Council representative. Steeped in G.A.A. culture, he remains at the coalface in his native Bundoran, where he puts his hectic business schedule to one side, to coach underage teams.
Peadar Ó Tuatáin (Derry)
Peadar has a long history of involvement in both his beloved Rounders (he is the Secretary of the Rounders Council of Ireland) and Handball at various levels and throughout his life has represented the Association with a dedication that underlines his passion, enthusiasm and voluntary commitment to the GAA.
Una Kearney(Armagh)
Una plays with the Ballymacnab Club, Armagh. She is a referee and has been refereeing for many years at club, inter-county and provincial level. She is also a Referee's Tutor and is acting Cathaoirleach of the National Referees Committee. She continues to travel all over the county both refereeing and delivering Referees Courses and has refereed and delivered courses in London also.
Martin Mullan (Derry)
He has been involved with the Glenullin club all his life initially as a player (he won a county Championship with the club in 1985), as a long serving Chairman, a former manager of the club senior team and as a key fund raiser and activist in the development plans of the club throughout the 1980's, 1990's and into the new Millennium.
Seamus Dooley (New York and Monaghan)
A native of Killanny, CountyMonaghan, he has served the Monaghan Football Club and the New York G.A.A. Board in many capacities since his arrival in New York. He was most recently Chairman of the New York County Board from 2004 – 2007, a period when the Board had significant achievements including the redevelopment of Gaelic Park. Seamus has served as a selector on many New Yorkfootball teams, most notably when the Overseas Competition was won in 1998.
Tom Moynihan (Limerick)
Played hurling and football with his native club Dromin/Athlacca winning a Junior Hurling championship in 1971. He became heavily involved in Camogie when he moved to Ballyagran and trained the local girls to two All Ireland club titles. When Castletown/Ballyagran decided to develop their facilities Tom was at the fore front in fund raising and ran the club FÁS scheme.
Vincent Linnane (Kerry)
From the Ladies Walk club, Vincent is a native of County Mayo but for over twenty years he has given unstinting service to Kerry G.A.A. both as grounds man at Austin Stack Park, Tralee and in taking charge of all the gear and kit for all of Kerry's intercounty football and hurling teams.
Michael Kelly (Galway)
An officer of the Ballindereen club for 50 years, he has served as Chairman, Treasurer and Hurling board delegate in a lifetime of service to the club. An Under 21 Hurling selector with Galwayin the 1970's and 80's, he also been to the forefront in the club's impressive infrastructural developments since the 1960's.
John Harte (Leitrim)
From the Sean O'Heslin's G.A.A. Club in Co. Leitrim, John is the epitome of a true, committed, loyal, energetic and dedicated club member. For the past 40 years he has been involved in every aspect of the club from participating in Scór to fundraising, to the promotion of hurling and is a past Chairman of the Ballinamore club – a position that is currently held by his son Conor.
John Ryan (Longford)
A lifelong supporter of the G.A.A. at Club and County level John is always willing to help in whatever capacity he is needed, be it as gate collector, in pitch preparation, fundraising and so on. He is currently Assistant Treasurer of the Ballymahon GAA club.
Fr. Moling Lennon (Carlow and Kildare)
A native of Cournellan, Borris in South Carlow, he has spent all his life involved in G.A.A. activities initially as a teacher in Knockbeg College where he spent 23 years, looking after G.A.A. teams. A distinguished playing career saw him win county hurling and football championships in Carlow in the 1950's. A former Chairman of the Leinster Colleges Council he was also Chairman of Carlow County Board in the 1980's and was involved as a selector with various county football and hurling teams. On moving to Kildare, he became involved with the Naas GAA club and was later a selector with the Kildare county team in the early 90's.
Mick Fitzgerald (Kerry)
Galway native Mick Fitzgerald is the most successful manager in the history of Ladies Football and having steered Kerry to a famous nine in a row he entered the Ladies GAA Hall of Fame (2004). Mick, who has been heavily involved in the administrative side of Ladies Football as a former President of the Association (1982-1985) and treasurer for 21 years has been one of the outstanding servants of the game.
Brendan Falvey (Kerry)
A member of the Ballymacelligott Handball Club in Kerry, he has been the County Handball P.R.O. since 1998, and led the promotion of handball at national level for many years. He launched the Ballymacelligott Website some years ago, and his work as County P.R.O. has helped to bring handball in Kerry to the fore.
Jimmy Connor (Mayo)
Jimmy will be honoured for his commitment to the Tooreen Hurling Club and to the development of the club grounds in particular. A Chairman of the club his lasting legacy will be the ability he has to gel people in the community together for the benefit of all.
Michael Noel Byrne (Offaly)
A player with the Tullamore G.A.A. club with whom he won Minor, Junior and Senior club Championships in the 40's and 50's, he spent many years as an intercounty referee and was involved in various capacities with both the club and Offaly County Board. Well known as the "Voice of O'Connor Park", Tullamore where he acted as M.C. on match days.
Related: