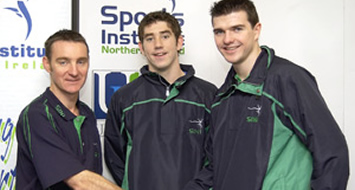 The Sports Institute for Northern Ireland are now recruiting for their Gaelic Football squad for 2008.
Do you want to play senior football for your county within the next two years?
Have you considered the things you need to change?
Have you a strategy to achieve your ambitions?
Have you the drive to see it through?
Can you access the Sports Institute in UUJ 2-3 times per week?
Benefits of Being on an Institute Squad
Aim:
To provide support, guidance and opportunities for player development to the top young Gaelic Footballers to ensure a smooth transition from underage structures to Senior inter county structures.
Outcomes:
By end of the programme you will have:
Interacted with other top class young athletes
Experienced the key areas that contribute to high performance
Received advice and guidance that will enhance performance
Improved performance levels that will assist you in becoming Senior players
Duration:
Two years commencing September 2008
Content:
Athletes who are on the Sports Institute Programme for Gaelic Football will receive the following benefits:
Full Membership of the SINI Squad
Player medical screening and subsequent actions and support
Video feedback on player performance (one to one)
Individual Strength and Conditioning programme
Supervision of programme implementation
Nutritional needs analysis and advice
Fitness assessment and Sports Science Support
Heart Rate monitoring / bloods tests
Coaching sessions based on areas for development
Access to and advice from world class services
Lifestyle management and career and educational development consultation
Immediate access to top quality medical support
SINI Clothing and equipment
Player monitoring and management of workload
Interested??? Contact Roger Keenan – r.keenan@ulster.ac.uk / 07960061854