Launch of 2008 Ulster SHC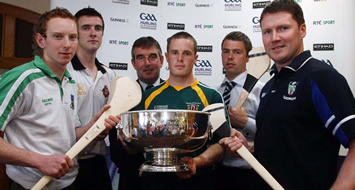 A large crowd was on hand as the 2008 Ulster Senior Hurling Championship was officially launched today at the Balmoral Hotel, Belfast.
In attendance were Tom Daly, President of the Ulster Council, and representatives from the competition sponsors, Louise Wheatley and Beatrice Cosgrove from Etihad Airways, and Conor O'Keefe from Guinness.
Tom Daly commented:
"I am delighted that this year, for the first time, all 9 Ulster Counties along with London will be competing in the Ulster Senior Hurling Championship."
Along with the Hurling Championship, Catherine O'Hara and Pat Rafferty, Chairperson and Secretary of Ulster Camogie were on hand to launch the 2008 Ulster Senior Camogie Championship. Representatives from each of the competing Counties (Antrim, Armagh, Derry and Down) were also in attendance.
Catherine O'Hara commented:
"The Ulster Camogie Council are delighted to be showcasing the Tailored Financial Solutions Ulster Senior Camogie Championship in conjunction with this year's Ulster Hurling Championship. It is a very progressive step by both the Ulster GAA and Camogie Councils, highlighting our joint commitment to the strengthening of our Gaelic games within our unique family ethos."
Among others in attendance were Terence McNaughton and Sean Delargy, manager and captain of reigning Ulster Senior Hurling Champions Antrim.
We would like to express our thanks to Martin Short and the pupils of Holy Child Primary School, who attended today's Launch.
2008 Ulster Senior Hurling Championship
(Extra Time must be played in all games up to and including Quarter Finals if necessary):
11th May – First Round:
(a) 1.Cavan v 2.Monaghan at Breffni Park @ 3.45pm
(b) 3.Fermanagh v 4.Tyrone at Lisnaskea @ 3.45pm
18th May – Second Round:
(a) v Donegal @ 3.45pm
If Cavan v Donegal at Ballybofey
If Monaghan v Donegal at Clones
(b) v London @ 3.45pm
If Fermanagh v London at Brewster Park Enniskillen
If Tyrone v London at Healy Park Omagh
25th May – Quarter Finals:
(c) Cavan/Monaghan/Donegal v Derry @ 3.45pm
(d) Fermanagh/Tyrone/London v Armagh @ 3.45pm
1st June – Semi Finals:
(c) Cavan/Monaghan/Donegal/Derry v Antrim
(d) Fermanagh/Tyrone/London/Armagh v Down
(Replays 7th/8th June)
15th June – Final: @ 3.45pm at Casement Park
(Replay 21st/22nd June)
2008 Ulster Senior Camogie Championship
25th May – Semi Finals
(a) Down v Antrim
(b) Derry v Armagh
15th June – Final
(a) v (b)
Related:
Ulster Senior Hurling & Camogie Championships Launch Gallery