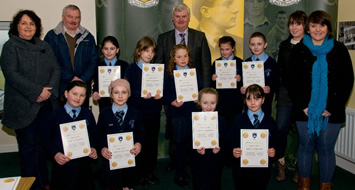 Reachtáil an Coiste Cultúir de CLG Ard Mhacha seimineár iontach úsáideach 22 Eanáir d'oifigigh chultúir agus teanga ó chlubanna ó gach cuid den chontae agus bhí na cainteanna ar fad iontach sultmhar agus tairbheach. Labhair Uachtarán Chomhairle Uladh, Aogán Ó Fearghail, fá ról na Gaeilge agus an chultúir i saol an CLG.
Shocraigh Réamonn Ó Ciaráin ó Choiste Cultúir CLG Ard Mhacha scéim nua idir Coláiste Chaitríona agus bunscoileanna béarla chathair Ard Mhacha i mbliana agus bronnadh teastais ar na páistí a ghlac páirt inti. D'éirigh go hiontach leis an scéim agus bhí na páistí ó Bhunscoil Chnoc Chaitríona sona sásta leo féin nuair a bhí siad ábalta freagra a thabhairt d'Aogán Ó Fearghail i nGaeilge.
Thug Fergal O' Brien as Cumann Chú Chullain ar an Mhullach Bhán caint bhríomhar ar na comórtais sa Scór agus scaip sé a chuid taithí ar a raibh i láthair. Rinne Réamonn Ó Ciaráin cur i láthair an-shultmhar ar thionchar na Gaeilge ar an Bhéarla a labhraímid in Éirinn agus bhí iontas ar chuid mhór den lucht freastail go raibh an oiread Gaeilge in úsáid acu nuair a labhraíonn siad Béarla féin. Labhair Kevin Murphy ar logainmneacha agus ar a thábhachtaí is atá sé ainmneacha na mbailte fearainn a chaomhnú.
D'éirigh go hiontach leis an lá cultúrtha seo agus beidh na hoifigigh chultúir ar fad ag pilleadh ar a gclubanna le roinnt mhaith ábhar machnaimh ar an bhealach chun tosaigh don teanga agus don chultúr sa CLG. Tá sé beartaithe  3 lá  cultúrtha eile a eagrú i rith na bliana agus leanfaidh an Coiste Cultúir ag cur lena gcuid tograí le stádas na Gaeilge a ardú sa Chumann Lúthchleas Gael in Ard Mhacha.
—
Armagh GAA's Culture Committee organised a very informative culture day recently at the Pearse Óg's clubrooms at Ballycrummy. The day consisted of a series of talks on the role of culture within the GAA and was opened by Aogán Ó Fearghail, President of the Ulster Council of the GAA. Mr Ó Fearghail opened proceedings with a talk on the importance of the Irish language and culture within the GAA and he commended all clubs interested in promoting this aspect of our organization.
In September last year, Réamonn Ó Ciaráin from the Culture Committee embarked on a new innovative scheme of teaching Irish to children in English medium primary schools. This scheme was facilitated by the willingness and generosity of students at the Irish medium stream in St. Catherine's College, Armagh, who visited Mount St. Catherine's Primary School and St. Malachy's Primary School to teach the children Irish greetings, songs and rhymes. The scheme was enjoyed by all who took part, with the primary school children learning about the Irish language and the students from St. Catherine's gaining experience of teaching. The participants were presented with certificates to reward all their hard work during the scheme.
Fergal O' Brien from the Cú Chullain club in Mullaghbane delivered a lively talk on the Scór competition and he shared his experience with the audience, who came from all across the county. Réamonn Ó Ciaráin gave an enjoyable presentation on the influence of the Irish language on the English we speak in Ireland and many of those present were pleasantly surprised at the amount of Irish they use in their own dialects of English. Those present were also entertained by Kevin Murphy who presented an informative insight into the importance of preserving townland names.
The culture day proved to be very successful and the culture officers in attendance will no doubt return to their clubs with plenty of food for thought. The Culture Committee of Armagh County Board intend to arrange 3 more culture days this year and they will undoubtedly continue to come up with initiatives to promote the Irish language within the GAA in Armagh.