Irish language week in Armagh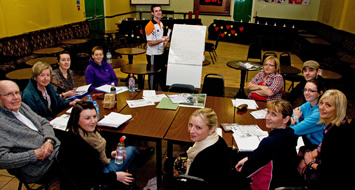 Irish language week got off to a fantastic start in County Armagh recently, with two hugely successful events taking place to encourage the use of the language. On Saturday 5 March, a series of intensive Irish language courses were held to cater for the growing demand for the Irish language in county Armagh. A total of 36 students enrolled in the classes which were organised for complete beginners, for intermediate level learners and for advanced level speakers of Irish. The classes, which were held at the Ceannáras at the Athletic Grounds in Armagh and in the social club at Na Piarsaigh Óga were enjoyed by all and the Culture Committee of the Armagh County Board and CAIRDE Teo would like to acknowledge the efforts of the three young local teachers, Caitríona Ní Aodha, Áinín Ní Eachaidh and Mícheál Ó Beagáin. We would also like to thank our County Board and the Pearse Óg club and Drumarg Community Association. Due to the success of this last series of intensive courses, the two organisations would like to arrange similar classes in the future, and if anyone is interested in taking part in future classes, you can contact Seán at Cairde in Armagh to be added to the mailing list for Irish language events in Armagh.
Sunday proved to be an historic occasion for the Irish language in County Armagh (Ard Mhacha – Height of Macha) and County Tyrone (Tír Eoghain – Land of Eoghan) with Irish speakers from both counties coming together to represent their respective counties. The game was played in Eglish (An Eaglais- The church) and it proved to be a very sporting and high-scoring affair, with the Tyrone side running out eventual winners in a tight contest. The real winner on the day was the Irish language as not a single word of English was used during the game or indeed during the preparations or following the game. The Culture Committee of the Armagh County Board would like to thank and congratulate all the players who took part on both teams and a special thank you to the Eglish club who hosted the game and provided refreshments and to the match referee, Eoghan Mac Dhónaill. The Culture Committee intend organising similar matches for all the GAA sports and if anyone is interested in taking part, contact Seán Ó Maoilsté on 028 3751 5229 or sean@cairdeteo.com or join us on facebook at Cairdeteo.
Bhí Seachtain na Gaeilge an-ghnóthach ar siúl in Ard Mhacha ar na mallaibh, le dhá mhórimeacht leis an Ghaeilge a chur i lár an aonaigh sa CLG in Ard Mhacha. D'éirigh go hiontach le sraith dianchúrsaí Gaeilge a bhí ar siúl ar an Satharn an 5 Márta le freastal ar an éileamh ar an teanga atá ag fás leis i gcónaí in Ard Mhacha. Bhí 36 dalta san iomlán sna ranganna a reachtáladh do gach leibhéal foghlaimeora, idir bhunrang, rang idirmheánach agus ardrang. Bhain gach duine sult agus tairbhe as na ranganna a bhí ar siúl sa Cheannáras ag an Pháirc Lúthchleasaíochta in Ard Mhacha agus ag club CLG na bPiarsach Óg. Ba mhian le CAIRDE Teo agus Coiste Cultúir Bhord Contae Ard Mhacha buíochas a ghabháil  leis na triúr múinteoirí áitiúla a chothaigh agus a spreag suim na ndaltaí ar an lá, agus ba iad sin Caitríona Ní Aodha, Áinín Ní Eachaidh agus Mícheál Ó Beagáin. Gabhaimid buíochas lenár mBord Contae agus le Cumann na bPiarsach Óg, Ard Mhacha as baile a thabhairt dúinn don lá agus gabhaimid buíochas le Cumann Pobail Dhroim Mairge as an lón blasta. Beidh an dá eagraíocht ag socrú níos mó cúrsaí mar seo amach anseo agus má tá spéis ag duine ar bith níos mó Gaeilge a fhoghlaim, téigh i dteagmháil le Seán ag Cairde in Ard Mhacha le bheith ar an liosta seachadta faoi choinne imeachtaí Gaeilge in Ard Mhacha.
Ar an Domhnach an 6 Márta, imríodh cluiche speisialta fíorstairiúil peile ar an Eaglais i gcontae Thír Eoghain. Tháinig Gaeilgeoirí ó chontae Ard Mhacha agus ó chontae Thír Eoghain le chéile le cor nua a chur sa choimhlint seanbhunaithe. Bhí an cluiche iontach taitneamhach agus spórtúil agus bhí Tír Eoghain cúpla scór chun tosaigh ag an deireadh ach níl aon amhras ann ach go raibh an lámh in uachtar ag an Ghaeilge ar an lá. Níor labhraíodh oiread agus focal amháin Béarla i rith an chluiche ná níor labhraíodh Béarla ar bith nuair a bhí na socruithe á ndéanamh ná i ndiaidh an chluiche. Ba mhian le Cairde agus Coiste Cultúir Ard Mhacha buíochas a thabhairt agus comhghairdeas a ghabháil leis na himreoirí uilig ón dá fhoireann. Gabhann muid buíochas leis an chlub CLG ar an Eaglais as an pháirc a chur ar fáil dúinn agus as na sólaistí i ndiaidh an chluiche. Go raibh míle maith ag an réiteoir fosta, Eoghan Mac Dhónaill. Ba mhian linn cluichí eile a shocrú do na cóid eile CLG as seo amach agus más mian leat bheith páirteach, teigh i dteagmháil le Seán Ó Maoilsté ar 028 3751 5229 nó ag sean@cairdeteo.com nó bí linn ar facebook ag cairdeteo.