North West Indoor Hurling U10 Competition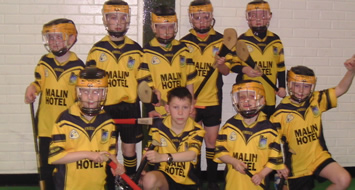 Over the past few weekends teams from Derry, Donegal and Tyrone have been taking part in the North West indoor hurling under 10 competition. The teams were hosted in 2 venues, LYIT in Letterkenny and Templemore sports complex in Derry City.
The games were all ground hurling only and played in a Go Games format with the main focus of the blitzes being getting the lads to enjoy playing and helping to develop their skills. 14 clubs in all took part, with the standard of hurling improving as the games went on.
A special word of thanks must go to Donal McLaughlin (Chairman Donegal Hurling Board) Noel Murray (Na Magha), and all of the various club coaches who helped to ensure that the blitzes were such a success. Many of the clubs participating will now take part in Ulster blitz in the Meadowbank this weekend so hopefully the North West competition will have prepared the lads for playing against teams from across the province.
Thanks again to all the clubs for their continued efforts in hurling development. There is no doubt that if clubs can sustain their current efforts they will soon reap the rewards.