Shared Education Day in Fermanagh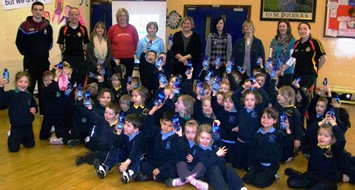 The children from St. Patraicks Derrygonnelly P.S, Derrygonnelly Controlled P.S and Killyhommon P.S Boho, have been working together as part of their Health and Fitness Shared Education Days.  DENI Primary Schools Coaches Teresa McGirr along with her colleague Owen Mooney from Ulster Council organised and facilitated a Health and Fitness Fun day for nearly 50 Primary 1 and Primary 2 children.
The children worked together in teams with friends they've made from the different schools playing lots of fun games and learning about the important of eating healthy food and drinking water.  To reinforce this each child received a bottle of water which was kindly donated by Beechvale Natural Water, Cavanacross, Enniskillen.  This was a very enjoyable day in which all the teachers and classroom assistants took part along with the other coaches, thank you to all for making the day fun and a success.