Children 'Invent their own Game'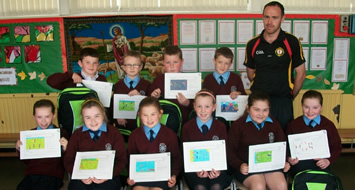 Armagh Ulster GAA DENI Coaches recently held an innovative competition to inspire children to be creative in designing their own game.
This competition was rolled out in Foley Primary School in Ballymacnab and was open to all pupils in P3/P4/P5.  The children were given a simple game card template to work from.  The template required children to draw a picture, include number of players needed, equipment needed and rules of each game.  Children also had to name their game and show how game could be made easier or harder as with the Gaelic Start cards.
The school pupils put a lot of time and effort into the project and huge credit must go to teacher Barry Carville for his input.
All pupils from the class received an Armagh bag and poster for their huge efforts.