Derry U13 Hurling Competition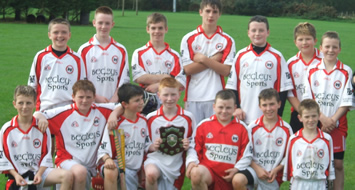 The County Derry Under 13 hurling competition concluded on Sunday 2nd October. The competition ran throughout the month of September with 16 teams from 3 counties taking part. The idea of the competition is to bridge the gap between Go Games at under 12 level and competitive hurling at under 14 level. The teams play 13-a-side. Thanks to all the clubs who took part in the tournament and for the continued efforts of their coaches, players and parents. Also a special word of thanks to Brian Smith for co-ordinating referees over the past few weeks and to the referees themselves for taking charge of the games.
Overall the standard of hurling was very high with some excellent individual talent on  display. A special mention must go to Buncrana for reaching the division one final which is further example of the strides they are making to improve hurling in the club and also to Dungannon for winning the division two title.
The first few weeks of the competition were group games which determined the seeding of the respective divisions for the final day of the tournament. All group results can be found in the results section of the Derry GAA website. Each team got 4 or 5 competitive games in the group sections. The fixtures and results for the finals turned out as follows:
Division One (winners = Kevin Lynchs )
Kevin Lynchs bt Slaughtneil
Buncrana bt Ballinascreen
Kevin Lynchs bt Buncrana
Division Two (winners = Dungannon)
Dungannon bt St Eunans
Lavey bt Swatragh
Dungannon bt Lavey
Division Three (winners = Banagher)
Banagher bt Kevin Lynchs B
Na Magha bt Carrickmore
Banagher bt Na Magha
Division Four (winners = Carndonagh)
Carndonagh bt Letterkenny Gaels
Burt bt Coleraine
Carndonagh bt Burt