Derry 'Wall Ball Hurling'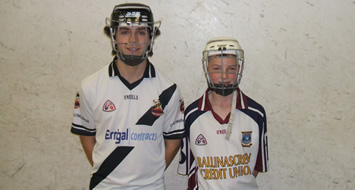 On Wednesday 26th October, Derry held their second annual 'Wall Ball Hurling' competition in Dungiven Sports Pavilion. This is an innovative initiative which helps players develop hurling skills indoor and in a different environment from a normal hurling training session. The game is played in a 40 x 20 handball court and the rules are roughly based around the rules of handball and squash. The game excellent for improving players catching, first touch and striking as well as improving their speed and footwork.
5 clubs were represented at the finals. The players who took part were, Joseph Grant (Swatragh), Sean Cassidy (Slaughtneil), Ciaran Steele (Kevin Lynchs), Darragh Cartin (Banagher) and Reese Mc Sorley (Ballinascreen). The players played off a league section with each player playing one another once. At the end of the league section Ciaran Steele and Reese Mc Sorley topped the table and went on to play in the final match. Reese came out on top in the final on a score line of 15 – 6 and was presented with a 'Club Derry' sponsored jersey for winning the competition.
Well done to all the players who took part, the standard was very good with all the players displaying a high level of skill. A word of thanks must go to all the clubs and parents who supported the programme a made it a very worthwhile nights hurling.