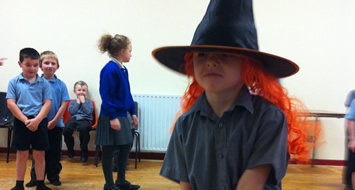 Getting into the Halloween spirit schools across County Armagh recently took part in the 'Spooky Sports' organised by local GAA DENI coaches.
Five school venues were used for the Halloween activities including St Jarlath's, St Oliver Plunkett's Ballyhegan, St.Patrick's Crossmaglen and St. Malachy's with 500 Key Stage 1 children taking part.
The Spooky Sports focussed on a Halloween theme to inspire children to get involved and enjoy the activities.   Participating schools were encouraged to invite another school from the maintained and controlled sectors.