Companies exhibit at conference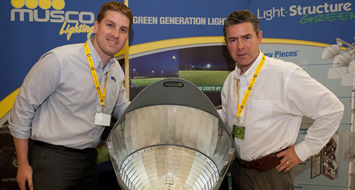 Ulster GAA would like to take this opportunity to thank the businesses and organisations who supported the recent Irish News Ulster GAA Club and Volunteer Conference.
The Irish News was back again as the main sponsor for the event and their continued support is greatly appreciated.  Their contribution to the club and community conference is significant not only in terms of their sponsorship but in helping to promote the conference through editorials and advertising five weeks out from conference date, their involvement on the day providing speakers, giving out free copies of the Irish News, advising clubs on the new Club Call and providing assistance to clubs and offering promotional materials for their use.  For more information on Irish News log onto: www.irishnews.com
The exhibition area at conference is always a key area for club delegates to visit to get advice, promotions and discounts. 11 businesses/organisation took stalls this year and Ulster GAA appreciates their support and were delighted to have all these companies part of the conference.  Companies who exhibited included:
PRUNTY CONTRACTS
With our vast experience Prunty Contracts are the number one choice for Pitch Construction.
Web: www.pruntypitches.co.uk
MUSCO LIGHTING (Pictured)
A World Class leader developing sports-floodlighting technology
Web: www.musco.com
TONY PATTERSON SPORTSGROUNDS
With over 30 years experience Tony Patterson specializes in offering complete sports surface packages.
Web: www.tonypattersonsportsgroundds.com
BANK OF IRELAND
Ireland's largest Bank Bank has had a long standing record of supporting sports including GAA at senior level for many decades. Working in partnership with University of Ulster the GAA Academy will assist in the development of a new generation of sports stars.
Web: www.bankofireland.co.uk/
RURAL COMMUNITY NETWORK—RURAL ENABLER
The programme, which has received over £2.7 million of European support, is a unique twelve county approach to supporting rural communities at a local level to identify and tackle the fears of reconciliation and anti-racism work
Web: www.ruralcommunitynetwork.org
THE GAA STORE
Sporting Excellence On-Line. Giving the GAA player, coach and fan the ultimate in choice.
Web: www.thegaastore.com
MATCH DAY PROGRAMMES
This is an excellent means of increasing your Club Funds! Receive customised Programmes and sell them on to Parents and Supporters
Web: www.clubquote.ie
THE ADVENTURE TEAM
Adventure, Learning, Exploration, Challenges, Team Building, Open Space Play and Fun.  Based in Gortin County Tyrone the Adventure Team has plenty to offer if your interested in an adventure break.
Web: www.theadventureteam.co.uk
MUGS FOR CLUBS
Tyrone footballer Sean O'Neill has set up this company to help clubs promote their brand through mugs.  All conference delegates have received a specially commissioned Ulster Mug from Mugs for Clubs today.
Web: www.mugsforclubs.org
ECO TURF LTD
Eco Turf LTD are sports grounds experts specializing in sports field construction, land drainage, and renovation of natural and artificial turf sports surfaces.
Web: www.ecoturfltd.com
ONEILL'S
Manufacturing footballs since 1918 O'Neill's is now the largest sportswear manufacturing company in Ireland.
Web: www.oneills.com
Ulster GAA encourages GAA Clubs and members to visit the websites of each of these businesses.