Kukri to Sponsor Schools Comp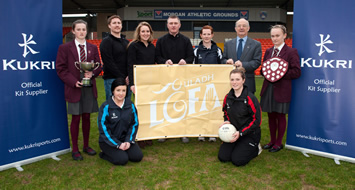 Ulster Ladies Gaelic are delighted to announce that Kukri Sports, who supply sportswear to over 75 different sports are now the official sponsor of all Ulster Ladies Schools competitions and the Ulster Ladies Schools All Star team. The partnership between Ulster Ladies Schools and Kukri Sport was signed recently at the Morgan Athletic Grounds, Armagh.
As part of the sponsorship agreement Kukri Sport will provide the team kit for the Ulster Schools All Star team for their participation in the All Ireland inter-provincial schools tournament. Ulster will defend their Inter-provincial title in Kinnegad in January.
Speaking about the new partnership, Neil Patterson, Regional Sales Manager Ireland , commented, "Kukri Sport is delighted to be sponsoring the Ulster Ladies Schools competitions and to be providing their All Star team with a uniquely designed kit for their upcoming competition. We are proud to be associated with the Ulster Schools competitions and wish their All Star team the very best of luck as they take on Connacht, Munster and Leinster".
Kukri GAA Sales Manager John Tumilty added "At Kukri we love teams, we love being part of a great team and we want you (Ulster Ladies Schools) to be proud of being part of our team too".
Louis O Donnell, Chairperson, Ulster Ladies Schools Committee, said, "Ulster Ladies Schools is very excited about this new partnership with Kukri Sport. We are constantly striving for excellence in our competitions and preparing our players both on and off the pitch. Our new deal will allow us to grow and improve on our schools competition and also ensure that our All Star team will be ready for the challenges ahead".
Since 1999 Team Kukri has shown what real teamwork can do. They have over 6 million, design options online – you can choose from 36 different fabrics in 22 different colours. Their success over the past 10 years has seen them supply team wear for over 75 different sports. For further information on Kukri Sports and their products log on to www.kukrisports.com or contact John Tumilty at 07825265769.
The Ulster Ladies Schools competitions are well underway providing competitive games for 195 teams from 85 schools. The first round of All Star trials has also taken place and the team to defend their interprovincial crown in mid January will be selected before the end of November. You can keep up to date with the Kukri Sports Schools Competitions by logging on to www.ulsterladiesgaelic.com
Photo Caption: Representatives from Kukri Sports including GAA Sales Manager John Tumillty, Louis O'Donnell Ulster Schools Chairman, Caoimhe Morgan (St Catherine's Teacher) and players from St Paul's Bessbrook and St Catherine's Armagh