Live to Play in Derry and Antrim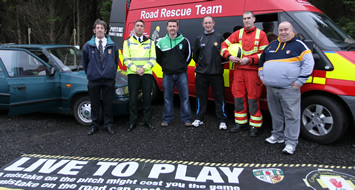 The Live to Play Roadshow was on the move again this month with 3 events taking place in Derry and Antrim. Coleraine Eoghan Rua, An Lúb and Glenravel were the host Clubs, with other GAA clubs in the areas attending on the night.
Live to Play is the Ulster GAA's Road Safety Awareness programme and is delivered to Clubs in conjunction with the County boards. Paul Gaile (Derry) and Tony McCollum (Antrim) co-ordinated events for their respective Counties and deserve great credit for their efforts in making them a success. The host Clubs themselves are also to be commended for endorsing the importance of safety on the roads by promoting the Campaign.
Further events are planned for 2012 and it is hoped that during the winter period that GAA members are mindful of the Live to Play messages and stay safe on the roads.