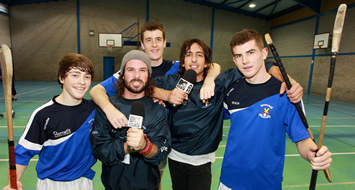 Earlier this month celebs from across the globe travelled to Belfast for the MTV Awards and Ulster GAA got into the act to promote hurling to an international audience.
As part of the massive MTV production, MTV producers developed a spin-off programme of key attractions in Belfast and as part of this Hurling was showcased.
St John's U18 Ulster championship Finalists hosted 'Robbie and George-Rat' from MTV UK to illustrate the unique skills of hurling. Ulster GAA coaches Rhona Thorney, Kevin Hinpley and Ronan McWilliams were at hand to coach the two MTV comedic presenters some of the key skills of hurling.
This important promotional opportunity came about through Ulster GAA's relationship with The Northern Ireland Tourist Board.
This was an excellent opportunity to promote hurling to an international audience and Ulster GAA was proud to be associated with the MTV Awards in Belfast.