Derry and Down reach All-Ireland Camogie Finals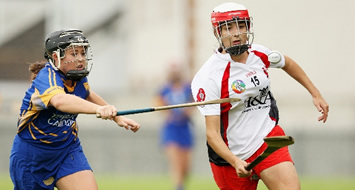 Derry and Down will represent Ulster in the All-Ireland Camogie Finals on Croke Park on September 16th aiming to bring back trophies to the Province. Derry will face Galway in the Intermediate Final while Down will play Meath in the Premier Junior Final.
Derry have had a fantastic year, winning the promotion to National League Division I by claiming the Division II title and also winning the NWP Recycling Ulster Senior Championship. In fact Derry are undefeated all year and will go into the final with confidence after defeating Tipperary convincingly on a scoreline of 3-16 to 0-6. Speaking before the Semi-Final win Derry Captain Gráinne McGoldrick had said the squad were focused on bringing success to the Province "We want to reach the next level. If you are playing Division I league games then you want to be playing those teams in the Senior Championship. It would give camogie in Derry and Ulster a boost if we were to win the Intermediate Championship."
Down will play the first game of a triple header at Croke Park and after having a narrow victory over Laois on Saturday 25th August they will need to up their game to defeat the girls from the Royal County. Down Soaring Star Niamh Mallon helped secure a 2-8 to 2-5 victory with a brace of first half goals however a shaky second half where Down failed to score nearly saw Laois make a comeback. Great performances from Karen Tinnelly and Emma McCormick in particular saw Down hold out to secure a three point victory.
Down Captain Fionnuala Carr conceded that Down will have improvements to make but is looking forward to the All-Ireland Premier Junior Final "The squad will get down to serious business of training and give ourselves the best possible chance of winning the final against Meath. We know the Camogie and GAA family in Down will be totally behind us and we aim not to disappoint."
Premier Junior Final- Down v Meath 12pm, Intermediate Final- Derry v Galway 2pm. Ticket details at www.camogie.ie