Club Volunteering & Marketing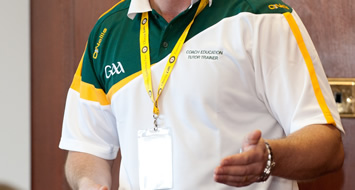 Next Wednesday, 17th October, sees the IFA and Ulster GAA coming together to hold a joint training workshop for club personnel and volunteers. This forms part of a Department for Social Development supported programme aimed at developing clubs and promoting sport in the community.
This workshop is the first in a two-part series and will provide guidance for clubs on PR, raising their profile, commercial initiatives and the use of social media. There has been quite a bit of interest and so far almost 20 clubs have signed up. These range from junior and amateur league teams right up to Irish Premier League clubs on the IFA front and a range of GAA clubs.
This is a great opportunity for clubs of all shapes and sizes to work more closely together and learn from each other in terms of how to engage with wider society and the communities they exist in. We hope that this will be a stepping stone towards closer collaboration, mutual respect and a shared future for the different sporting codes.
Joint IFA/Ulster GAA Training Workshops – October 2012:
1. Wed Oct 17th: Sponsorship & Marketing, 6.30pm – 9pm, Malone Lodge Hotel, Belfast
2. Wed Oct 24th: Recruiting & Retaining Volunteers, 7pm – 8.30pm, Shared Future Centre, Derry/Londonderry
To reserve a place at either of these workshops please contact:
Sharon Haughey: T: 028 (048) 3752 1900 E: sharon.haughey.ulster@gaa.ie