'Colour, Passion and Glory'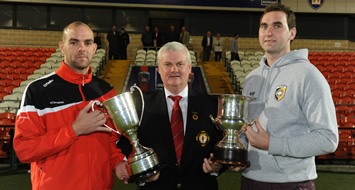 Ulster GAA in association with Ulster Ladies Gaelic and Ulster Camogie have launched the 2012 Ulster Club Championships across all codes, which throw-in on Saturday 29th September with the Junior Hurling Championship and will run until 18th November when Ulster Gaelic Clubs will battle it out for the title of Ulster Club Champions.
Following the success of the marketing campaigns for the Dr McKenna Cup, U21 Championship and Ulster Senior Championships which saw increased attendances in each competition, Ulster GAA has continued to listen to its patrons and frozen admission prices for the 2012 Ulster Club Championships, based on the 2011 admission prices which were reduced by 20% from the previous year.
Speaking at the launch, held in the Morgan Athletic Grounds in Armagh, Ulster GAA President Aogán Ó Fearghail stated, "The Ulster Club Championships are extremely competitive, high quality and full of passion, and 2012 promises to be another exciting year.  In Ulster we are very proud that two of our Ulster Club Champions have gone on and picked up All Ireland titles earlier this year – the men from Crossmaglen Rangers and Loughgiel Shamrocks.  This gives all our clubs the inspiration to put their heart and souls into these games, because not only is an Ulster title on the line but so is the possibility of a Club All Ireland title.  That is something really special and this competition brings out the best in clubs."
"I urge supporters to come out in their club colours to support the Ulster Club Championships.  We've listened to our patrons and have once again frozen our admission prices.  I especially encourage as many young children and young adults from schools, clubs and parishes to attend the Club Championships as all U16s will go free.
"Tonight, as Gaels across Ulster gather with hope and expectation for 2012 Club Championships, we remember Brian Og Maguire, who played an important part in the Ulster Club Championships last year – lifting the Ulster intermediate title for his club Lisnaskea Emmetts GAA.  His memory and the loss of a life too young, reminds us that Gaelic Games is more than just winning – it's about your place, your family, your club, your province."
Ulster Ladies Gaelic Secretary Mary Keegan said, "We are delighted to launch our Ladies Gaelic Club Championships, which will run until 3rd/4th November weekend.  The great turnout this evening for this launch shows the worth clubs place on the Ulster Club Championships and I wish all our clubs every success.  I also encourage supporters to come and see the great standard of Gaelic Football across Ladies Clubs in Ulster."
Ulster Camogie Treasurer Rosemary Hughes-Merry stated, "The NWP Recycling Ulster Camogie Club Championships are great competitions with the very best Camogs competing for the coveted title of Ulster Champions.  There will sure be colour, passion and glory in these Club Championships and I urge Gaels to come out and support their clubs and counties at these games."