Power NI Dr McKenna Cup Round-Up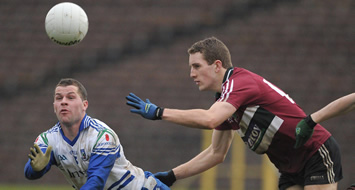 It was a busy weekend of action in the opening round of the Power NI Dr McKenna Cup.
Power NI Dr McKenna Cup Group A
Monaghan 1-13 St Marys 2-6
An impressive first-half performance set Monaghan up for a fairly comfortable win over St. Mary's University in Clones on Sunday. Malachy O'Rourke's tenure got off to a good start when Monaghan raced into a 12-point lead just after the half-hour mark but they kicked a total of 14 wides, opening the door for St. Mary's, who had to line out without some of their contingent of county players, to make a game of it after the restart.
Fintan Kelly, Stephen Smyth, Paul McArdle and goal-scorer Pádraig Donaghy made their McKenna Cup debuts from the start and were later joined by Shane McQuillan and Donal Hahessy for the last 15 minutes. Conor McManus, Dermot Malone, Smyth, Martin McElroy, Darren Hughes and Dick Clerkin showed well for Monaghan. St. Mary's, who didn't score a point from play until second-half injury-time, were almost exclusively relying on the free-taking of Daniel McKinless and Benny Herron, although Niall Sludden and Conor O'Hara also had their moments.
Monaghan took barely ten seconds to open the scoring when Neil McAdam released Conor McManus for a good point from play and McManus doubled their lead on four minutes when he tapped over a 13-metre free won by Pádraig Donaghy. Owen Duffy added a well-taken point and although Daniel McKinless got St. Mary's off the mark from a 30-metre free for a foul on Jerome Johnston, a good move involving Martin McElroy, Darren Hughes and McManus created a goal chance for Dick Clerkin, who opted to fist over the bar. Owen Duffy and Hughes combined well to create a debut point for Stephen Smyth, before Monaghan found the net when a high ball from McElroy was punched across the face of goal by Paul McArdle for Donaghy to slide in and score from close range.
An off-the-ball foul on Johnston allowed Benny Herron to tap over a 13-metre free for St. Mary's, but Monaghan replied with good points from play by Clerkin and McManus and another from Dermot Malone, who had been well-placed by Hughes. Niall Sludden sent a goal-attempt wide on 31 minutes, before Smyth got on the end of an attack involving Owen Duffy and Clerkin to kick his second point of the half. Sludden didn't have long to wait for another glimpse at goal when a strong run by Richard O'Callaghan put him through and this time, he made it count with a low shot which gave Rory Beggan no chance. That reduced Monaghan's lead to seven points at half-time: 1-9 to 1-2.
In contrast to the first half, the first eight minutes of the second period were scoreless until McManus converted a 20-metre free for a foul on Clerkin. McKinless replied with a brace of close-range frees for St. Mary's, but McAdam linked up with McManus to restore Monaghan's seven-point cushion, before McManus produced a nice finish for his fifth point. The Belfast teacher-training college hit back with a 40-metre free by McKinless, who then won a penalty which Herron drilled home to close the gap to four. Martin McElroy took a pass from Shane McQuillan to become Monaghan's eighth scorer and end their 12-minute wait for a point and although St. Mary's got the last score through sub Oisín Mac Íomhair, the home side still had four points to spare in the end. Monaghan will travel to Ballybofey next Sunday to take on Donegal in the north-western county's first competitive game since they won the All-Ireland.
Monaghan: R Beggan; D Mone, F Kelly, K Duffy; M McElroy (0-1), Darren Hughes (Capt.), K O'Connell; D Clerkin (0-2), N McAdam (0-1); O Duffy (0-1), P McArdle, S Smyth (0-2); P Donaghy (1-0), C McManus (0-5, 2f), D Malone (0-1).
Subs: C Galligan for K Duffy, R McNally for O'Connell (both 48 mins), O Lennon for McAdam (54), D Hahessy for Donaghy, S McQuillan for Smyth (both 57).
St. Mary's: D McAnenly; S Mullan, A Maguire, M Murray; R Loughran, C O'Hara, B Doyle; R O'Callaghan, E McCaffrey; R Sexton, B Herron (1-1, 1-0 pen, 0-1f), N Sludden (1-0); D McKinless (0-4f), J Johnston, J Duffy.
Subs: S O'Neill for McCaffrey (26), R Johnston for Doyle (H-T), O Mac Íomhair (0-1) for Maguire (57).
—
All-Ireland champions Donegal will open their 2013 season on Wednesday night when they travel to Enniskillen for a 7.30pm throw in against Fermanagh.
—
Power NI Dr McKenna Cup Group B
Cavan 0-12 Down 1-11
Paul McComiskey's early goal helped Down move into a 1-4 to 0-1 lead but Martin Dunne's five points contributed to Cavan levelling by half-time.
Cavan then moved into a two-point lead before two Benny Coulter points helped Down draw level at Kingspan Breffni Park.
As Cavan missed chances, Doyle struck three points as his introduction helped Down edge a two-point verdict.
Doyle was sent on midway through the second half along with All-Star nominee Conor Laverty and the duo's class proved decisive for the visitors in the closing stages.
Martin Dunne hit nine of Cavan's points with their other three scores coming from midfielder Gearoid McKiernan.
McComiskey, playing his first game for Down since the 2011 All-Ireland qualifier defeatby Cork, hit the net with the opening score of the game and a Ryan Boyle score extended the Mourne County's advantage to four points.
Gearoid McKiernan opened Cavan's account in the eighth minute but two points by Danny Savage helped stretch Down's lead to six.
However, three straight Dunne points left a kick of the ball between the sides and Cavan continued to dominate the remainder of the first period as they drew level at 0-8 to 1-5 by the break.
Cavan moved into a two-point advantage after half-time before two points by first-half substitute Coulter brought the sides level.
John McCutcheon's switch to centre-field saw Cavan take a stranglehold on procession midway through the second half but Terry Hyland's side failed to make their dominance count as they missed a series of chances.
In contrast, there was an economy of effort about Down's scores after the introduction of Doyle and Laverty.
Doyle rattled off three straight points to put Down two ahead and James McCartan's side stayed ahead until the finish.
Cavan: A O'Mara, O Minagh, J McCutcheon, K Brady, P Reilly, A Clarke, D O'Reilly, T Corr, G McKiernan 0-3, C Mackey, N McDermott, M McKeever, K Meehan, D McKiernan, M Dunne 0-9 (2f).
Subs: N Murray for Meehan, O O'Connell for Murray, D Barkey for Minagh, M Brady for McCutcheon.
Down: M Cunningham, D McCartan, B McArdle, R Boyle 0-1, C Garvey, G McAnulty, D O'Hagan, K King, K McKernan, D Savage 0-1, A Carr, P Turley, R Kelly 0-2 (1f), C Harrison 0-3, P McComiskey 1-0.
Subs: B Coulter 0-2 for Garvey, L Doyle 0-2f for Carr, C Laverty for Savage, O Costello for Turley, Carr for King.
—
Power NI Dr McKenna Cup Group C
UUJ 2-9 Antrim 1-15
New Antrim manager Frank Dawson got off to a winning start on Sunday as he saw his side edge out UUJ by 3 points at Casement Park.
After racing into a 4 point lead, an opportunistic goal by UUJ's Declan Lynch against his home County in the 18th minute levelled at the sides but Antrim were always in control of this game and a 28th minute goal by the roving corner back Kevin O'Boyle established a 1-10 to 1-3 lead at the break for the Saffrons.
In the opening stages of the second half, both sides traded two points each before Lynch once again pounced in the 54th minute to bury the ball into the net for his second goal and reduce the deficit to four points.
UUJ Keeper Mark McReynolds denied Antrim a second goal when he saved well from substitute Michael Herron but Colm Fleming scored the resulting '45 and added another from play to give Antrim a commanding 1-15 to 2-7 lead. Gregory McGovern and Richard Donnelly tagged on late consolation points for the students.
Antrim: C Kerr, K O'Boyle 1-1, S McVeigh 0-1, J Lavery, T Scullion, J Crozier, N Delargy, M McCann 0-1, P Doherty, C Murray, K Niblock 0-2, B Herron 0-1, P Cunningham 0-4f, M Pollock 0-1, K Close 0-1.
Subs: M Herron 0-1 for Pollock, R Johnston for McVeigh, C Fleming 0-2 (0-1 '45) for Murray, S Finch for O'Boyle, J Carron for McCann.
UUJ: M McReynolds, K McKaigue, D Lavery, D Quinn, E Wade, G McCartan, E Deeney, G Rennicks, C Duffin 0-1, R Donnelly 0-1f, A Devlin 0-2 (1f), G McGovern 0-1, R Corrigan 0-1, E McGuckin 0-3, D Lynch 2-0.
Subs: E Kivelahan for Lavery, D McEntee for McKaigue, G O'Neill for Corrigan, M Carson for Rennicks.
—
Power NI Dr McKenna Cup Group C
Tyrone 1-14 Derry 0-15
When a pointed free by James Kielt put a determined Derry outfit two ahead with five mins remaining, it looked as if the Oak Leafers would claim the result to go alongside the performance they craved. However, a Conor McAliskey goal two mins later effectively sealed the deal for the Red Hands in this McKenna Cup opener.
The McKenna Cup is often used to blood new players. After two mins Kilrea's Lee Kennedy had gotten his own senior intercounty career off to a great start, scoring with his first touch to put his county ahead. That feat was repeated minutes later as another debutant, Ryan 'Sucky' Bell, cooly slotted a '45 and followed it up with a long distance effort from similar range – this time from play.
With Derry leading 0-04 to 0-03 after 15mins, the home side came back strongly to register three unanswered points. With Patsy Bradley and PJ McCloskey more than holding their own around the middle, Derry held firm. It owed much to the spirit and belief on show as Derry registered three points on the trot themselves during the final 6 mins of the first half. That blistering passage of play would leave the sides level at 0-07 each as the half time whistle sounded.
However, it was in the second half that Derry really got to grips with their opponents. With captain McBride getting the measure of Stephen O'Neill; and McGoldrick, Lynch and McCloskey driving Derry forward, three points from the Banagher duo (Lynch 1, McCloskey 2) gave Derry a firm foothold in the game.
With Derry fans delighted to welcome Coilin Devlin back to the red and white jersey, the Shamrocks man was introduced for Kennedy on 48mins and would feature in the two minutes of drama which ultimately decided the game. The introduction of Declan Mullan was another reminder of the absentees due to injury which plagued previous years. It wasn't just returnees however who featured as Bellaghy's Declan Brown was handed his inter-county debut on 52min replacing an impressive Ryan Ferris, also featuring at senior level for the first time.
At just 18 years of age Brown displayed tenacity and agility which must surely have pleased his coaches and managers. Pivotal in thwarting a threatening Tyrone attack, the Bellaghy lad showed no signs of nerves as he took his place in a full back line which had the duty of keeping tabs on a Tyrone front line which included one of his former primary school teachers in Stephen O'Neill.
As the final quarter came into being, Derry displayed confidence and ability to keep Tyrone at bay and maintain their lead. Superb marshalling of Peter Harte by Barry McGoldrick led to the Eoghan Rua man dispossessing Harte to start a flowing attack which would end in a fine team score finished by Mark Lynch.
When a James Kielt free put the Oak Leafers two up with five mins left, it looked good for Derry. Then came the late drama mentioned earlier. Substitute Conor McAliskey latched onto a loose ball to send a low shot to the net. Minutes later Coilin Devlin, through his own hard work and determination, fashioned a similar chance. This time, however, the ball would drift inches the wrong side of the post keeping Tyrone's late lead intact. A final James Kielt pointed free would be the last action of the game which saw Tyrone claim victory from the jaws of defeat.
Ultimately, Derry got the performance which will please their supporters and management but just fell short with the result. On another day numerous factors could have resulted in a different outcome.
Both sides deserve credit for what was a terrific opening to the McKenna Cup played on a rain sodden pitch which only just survived a late inspection. In those conditions, and with the first week of the new year not yet over, both sets of players gave their all to the delight of the 4,500 strong crowd.
Derry: E McNicholl; R Ferris, D McBride, C Mullan; C Kielt, M Lynch 0-1, SL McGoldrick; P Bradley, PJ McCloskey 0-3; B McGoldrick, R Bell 0-2 (1 '45), R Wilkinson; E Bradley 0-3 (1f), L Kennedy 0-1, J Kielt 0-4 (2f).
Subs: C Devlin for Kennedy (48), D Browne for Ferris (52), A McAlynn for B McGoldrick (57), D Mullan for P Bradley (60). Blood sub: A McAlynn for SL McGoldrick (17)
Tyrone: N Morgan; D Carlin, C Gormley, B Tierney; R McKenna, J McMahon, D McBride; C Clarke, S Cavanagh 0-7 (5f); K Gallagher 0-1, Mark Donnelly, Matttie Donnelly 0-2; M Penrose, S O'Neill 0-3 (2f), J Lafferty.
Subs: T McCann for McMahon (20), P Harte 0-1 for Lafferty (47), D McCurry for Mark Donnelly (47), P Kane for Clarke (60), C McAliskey 1-0 for McBride (65).