Training for New Club Officers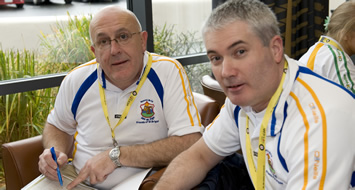 The Gaelic Life training for NEW Club Officers will take place on Saturday 19th January 2013 at a mid-Ulster venue to be confirmed. (Those registered will be emailed with venue details as soon as they have been confirmed)
The training has proven to be a very valuable support to Officers in their role-specific duties. Whether your Officers are new into their role in 2013, or simply wish to gain more knowledge they will find the course very useful and attendance is a requirement of Club Maith.
Please note this is a separate training event to those taking place in each County from 23rd January onwards.
Please circulate this information to your Club Officers as Saturday 19th January is the only opportunity to avail of this training.
To register your Club Officers please email maura.kelly.ulster@gaa.ie by Tuesday 15th January.
TIME

ISSUE

AREAS COVERED


10am
Arrival & Registration
10:30am
Welcome
PLENARY
10:40am – 11:15am
Introduction and General Club Development Issues, Child Protection
PLENARY
11.20am- 12.30pm
Officer Training Workshops
Chairperson Training
Secretary Training
Treasurer Training
PRO Training
Culture Officer Training
Development Officer Training
Coaching Officer Training
Childrens Officer Training
12.30pm
Close
Upcoming Club Officer Development Course
12:40pm
Lunch
Lunch compliments of Ulster GAA