Young Sports Volunteers Awarded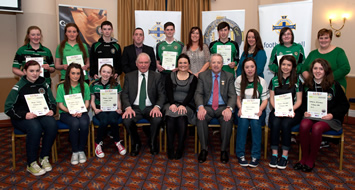 Young volunteers across GAA and Football clubs came together last night to officially receive their GoldMark certificates, for volunteering 50 hours, 100 hours and 200 hours in a sporting environment.
Irish FA President Jim Shaw, Ulster GAA President Martin McAviney and Lyne Greenwood from Volunteer Now were at hand to award the three levels of awards aimed at recognising young people volunteering in sport.
Speaking at the Awards Ceremony Ulster GAA President Martin McAviney said, "For those helping out in GAA clubs, sometimes it's not seen as volunteering but more a way of life. But this Programme has given an opportunity to highlight to our young members that the work they undertake as volunteers is making a significant impact to their club and local community.
"Being involved in a sporting organisation gives young people an opportunity to develop their skills and knowledge across a vast range of areas including: team mentoring, official roles around matches, PR and communications, working with children, coaching, teamwork and so on. All the skills developed through volunteering are transferable to the work environment and will help those involved in GoldMark when it comes to applying for jobs, college or university."
Irish FA President Jim Shaw said, "Volunteers are the lifeblood of sport, and the young volunteers of today are the sporting leaders of tomorrow. The variety of roles available to young volunteers ensures there is an opportunity for everyone to get involved in sport, regardless of whether it is football, gaelic games or any other sport, and it is great to be able to recognize the shared passion and commitment through the GoldMark scheme."
The Awards Ceremony was attended by over 70 young people and included a drumming circle by The Gathering Drum and Scór performances from Loup GAA and Castlewellan GAA.
For further information Contact:
Sharon Haughey-Grimley: 02837517180
Photo caption:
Young GAA members from Killeavy GAA who participated in GoldMark Programme receive their certificates from Ulster GAA President Martin McAviney and Irish FA President Jim Shaw, pictured with Lyne Greenwood representing Volunteer Now