Irish News Club & Volunteer Awards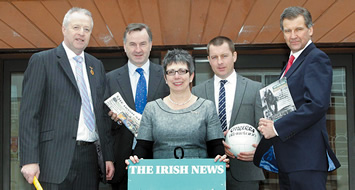 The prestigious Irish News Club and Volunteer Awards are back following a decade of success.
The scheme has gone from strength-to strength and now moves into a second decade and aims to recognise the hard work and effort given by GAA clubs and volunteers throughout Ulster. The scheme also rewards the schools in the province who are doing great work at grass roots level to promote Gaelic games.
This year, as well as the separate club and schools awards, there will be a special award to highlight the link between GAA clubs and schools. This special recognition category is open to both schools and clubs.
The awards have, once again, been backed by the GAA's Ulster Council in conjunction with O'Neills Sportswear, the Wellington Park Hotel and Volunteer Now.
New Ulster Council president Martin McAviney has urged clubs and schools from across the province to get involved. "Ulster GAA are once again pleased to support and endorse the Irish News Club and Volunteer Awards Scheme," said McAviney. "We have a strong partnership with the Irish News and I would encourage all our Clubs and Schools to enter this years competition and also ask Clubs to nominate their hard working volunteers for recognition. I look forward to the awards ceremony in May. "
Irish News editor Noel Doran echoed those sentiments and says the scheme is designed to give each club, school and volunteer an equal chance of success. The Irish News Club and Volunteer Awards for 2013 will once again set out to put the spotlight on the enormous contribution made by GAA volunteers in all parts of Ulster. "Our scheme is open to clubs and schools throughout the nine counties of our province, and we hope that both the recognition provided and the funding available for award-winners will help to keep the GAA in a vibrant state at all levels. "
Volunteer Now have come on board to give their backing to the scheme this year and Wendy Osborne OBE, Chief Executive of Volunteer Now said: "Volunteer time and commitment are the vital ingredients that 'make sport happen'. Volunteer Now is delighted to be involved with the Irish News Club and Volunteer Awards. "
The winner in each club category will be awarded a £1,000 cheque, £1,000 O'Neills Sportswear vouchers and a full page club profile in The Irish News. There will also be a highly commended winner in each category who will be awarded a £500 cheque. The winning volunteer in each category will win a £100 Irish News Reader Holiday voucher plus £100 O'Neills Sportswear vouchers. The winning Primary and Second Level school will each receive a £1,000 cheque and £500 O'Neills Sportswear vouchers plus a full page school profile in The Irish News.
The awards are structured to allow clubs with similar membership numbers to compete together and will be categorised as small, medium and large. The same criteria will apply for the volunteer awards.
Submitted entries will be accepted only on the official application form, copies of which can be downloaded from www.irishnews.com/clubawards. Support material is not permitted. The closing date for submission to the Irish News Club and Volunteer Awards is 12pm on Friday, April 19, 2013.
Queries in relation to the Irish News Club and Volunteer Awards should be made in writing by email to clubawards@irishnews.com or by post to Irish News Marketing Department, 113-117, Donegall Street, Belfast BT1 2GE.