Ulster Juvenile Handball Finals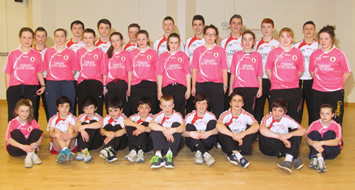 There will be a tremendous feast of quality action in Kingscourt this Saturday as the most talented young handballers from across the province make their bid for Ulster championship glory.
The Ulster juvenile championships have reached the concluding stage, with 24 provincial titles set to be decided in a tasty programme of fixtures involving no fewer than eight counties.
Tyrone topped the provincial roll of honour last year before going on to steal the limelight at the national finals for the first time along with Armagh. And, with a formidable team again featuring in the 2013 finals, the O'Neill county will be prominent once more.
But the challenges facing Tyrone's young stars this Saturday, especially from Monaghan in the boys finals and from Armagh in the girls categories, will be significant.
While Tyrone have representation in 14 finals (7 boys; 7 girls),  Monaghan will impressively be involved in all but one of the 12 boys matches, and Armagh will feature in 8 of the girls' showdowns. Monaghan's total final appearances on Saturday will be 13, one less than Tyrone, and Armagh's tally will be 10.
Saturday's programme of matches could hardly be launched with a more enticing contest as Tyrone's Lorcan McBride goes head to head with Monaghan's Eoghan McGinnity in the boys under-12 singles decider at 10.30am, the first of six Tyrone v Monaghan affairs.
This is a match not to be missed as Tyrone's world under-11 singles champion takes on the highly skilled McGinnity who partnered his opponent in two world doubles finals last October, the pair winning gold together in the 40×20 court.
The opening instalments in all three courts on Saturday will certainly whet the appetite for the rest of the day and the high quality is set to be maintained right through to the end.
There are some fantastic clashes to look forward to, with plenty of All-Ireland and even world champions on show throughout the proceedings.
Among the standout games is the girls under-16 singles final, which will be a repeat of the under-15 decider at the world championships in October featuring the dynamic Niamh Coleman from Armagh, last year's national under-14 singles champion, and Tyrone's Aoife Kelly, an All-Ireland under-16 doubles champion in 2012.
Niamh's achievement in winning four gold medals at the worlds was one of the handball highlights of 2012 and her rematch with Aoife has the potential to be the match of the entire day, but there are no shortage of candidates for this accolade.
Armagh's Brian McAnenly and Alana Doran, and Tyrone pair, Sean Kerr and Jack Campbell, all enjoyed All-Ireland juvenile glory in 2012 and are back looking for more success this season, while Dearbhla Coleman, Antoin Fox, Dara Curran and Ciara Mullan are all gold medalists from the world championships and Jakub Szkup, Cormac Munroe, Darragh Canavan, Eilise McCrory and Alana Doran all have silver medals to show for their world championship efforts.
This gives an idea of the pedigree on display in Kingscourt this Saturday, but there will also be first time finalists and players winning Ulster championship medals for the first time, which will make the day so special for many.
But, perhaps more importantly, new friendships and rivalries will begin in Kingscourt and others will be renewed and strengthened as the handball family of Ulster reunites for another memorable occasion in which handball will be the real winner after the last ball is struck.
The full fixture list for Saturday's Ulster juvenile final programme in Kingscourt is as follows…
BOYS ULSTER JUVENILE 40X20 CHAMPIONSHIP FINALS (Courts 1 and 2)…
10.30 U12 Boys Singles – Lorcan McBride (Tyr) v Eoghan McGinnity (Mon)
10.30 U12 Boys Doubles – Dara Curran / Cahir Munroe (Tyr) v Jakub Szkup / Konrad Konal (Mon)
11.15 U13 Boys Singles – Cormac Munroe (Tyr) v Justas Dambinskas (Mon)
11.15 U13 Boys Doubles – Anton Fox / Darragh Canavan (Tyr) v Cailean Myles / Hubert Sheinbach (Mon)
12.00 U14 Boys Singles – Turlough Clarke (Tyr) v Oran Kernan (Mon)
12.00 U14 Boys Doubles – Ciaran Cuddy / Conor Kelly (Tyr) v Shea Donnelly / Sean Reilly (Arm)
12.45 U15 Boys Singles – Conor Leonard (Mon) v Jordan Murtagh (Arm)
12.45 U15 Boys Doubles – Stephen Smith / Thomas Donohoe (Cav) v Martin Mullen / James McCague (Mon)
1.30 U16 Boys Singles – Gavin Coyle (Mon) v Brian McAnenly (Arm)
1.30 U16 Boys Doubles – Sean Kerr / Jack Campbell (Tyr) v Gary Treanor / Conor Mohan (Mon)
2.30 U17 Boys Singles – Ramunas Ramanauskas (Mon) v Cormac Muldoor (Don)
2.30 U17 Boys Doubles – Gary McElroy / Conal McKenna (Mon) v Declan Fitzsimmons / Tom Burns (Dow)
GIRLS ULSTER JUVENILE 40X20 CHAMPIONSHIP FINALS (Court 3)…
10.30 U12 Girls Singles – Elizabeth McGarvey (Tyr) v Grace Shannon (Ant)
11.00 U12 Girls Doubles – Mairead Fox / Caitlin Conway (Tyr) v Rachel McKeown / Eilish Murphy (Dow)
11.30 U13 Girls Singles – Dearbhla Coleman (Arm) v Emer Kerr (Tyr)
12.00 U13 Girls Doubles – Michaela McCartan / Ciara Mullan (Tyr) v Meabh McCambridge / Beth Doris (Arm)
12.30 U14 Girls Singles – Megan McCann (Arm) v Lucy McDonnell (Mon)
1.00 U14 Girls Doubles – Ella Beatty / Rachel McGeown (Arm) v Emma Shannon / Cara Doyle (Ant)
1.30 U15 Girls Singles – Eilise McCrory (Tyr) v Kelly McCracken (Der)
2.00 U15 Girls Doubles – Meabh McMahon / Dearbhla Cooney (Arm) v Sinead Donnelly / Aoibhinn McAnespie (Tyr)
2.30 U16 Girls Singles – Niamh Coleman (Arm) v Aoife Kelly (Tyr)
3.00 U16 Girls Doubles – Aoife McConville / Alana Doran (Arm) v Anna McElroy / Emer Loane (Der)
3.30 U17 Girls Singles – Casey Treanor (Mon) v Aisling Fagan (Arm)
U17 Girls Doubles result – Majella Bradley / Paula McGrory (Don) beat Seona McCracken / Amy McKee (Der) 21-1, 21-7
Ulster champions hoping to negotiate semi-final challenge from Munster…
As the top young players from across Ulster come together this weekend to decide the Ulster juvenile roll of honour for 2013, the province's adult singles champions will all be on All-Ireland semi-final duty against the champions of Munster.
There are some great championship tussles lined up over the weekend at various venues, including Beragh, Saval, Armagh and Loughmacrory, but for some of Ulster's representatives, there are long trips ahead to venues in Limerick, Cork, Tipperary and Kerry.
Among the most appealing fixtures are the four matches scheduled for Beragh, which include Tyrone's Shane O'Neill against Tipperary's Ger Coonan in the intermediate semi-final and Gabhainn McCrystal's encounter with Clare's Colin Crehan in the minor championship, while Tyrone's Maeve McElduff meets Limerick's Martina McMahon in an attractive minor ladies tie.
There's also a superb programme of games in Saval on Sunday as four players from the host county, Brian Havern, Tom Savage, Sean McNally and Des McNeill, bid to give Down a strong representation in the 2013 All-Ireland final programme.
However, some of the most eyecatching fixtures will take place down in Munster and nobody will travel further than Antrim pair, Ricky McCann and Robbie McMahon, who are due to fulfil their respective semi-finals in Glenbeigh, County Kerry, on Sunday.
The meeting of McCann and Kerry's Dominic Lynch in the over-35A singles semi-final is an exciting prospect with both players having spectacularly made it through to the semi-final stage of the Irish Open singles championship last weekend, joining Paul Brady and Robbie McCarthy in the last four of handball's leading event.
Terry McElvaney (under-21), Barry Devlin (junior), Niall Kerr (masters) and Thomas Maguire (golden masters) are among the Ulster contingent who have long journeys and difficult semi-final assignments awaiting them, while Antrim's Paddy Crothers and Monaghan's Michael McCarron will hope to make it an Ulster doubles in Armagh on Sunday.
Overall there are 23 All-Ireland semi-finals involving Ulster and Munster pencilled in between Friday evening and Sunday afternoon, with Tyrone, Antrim, Monaghan and Down all hoping for big victories.
2013 ALL-IRELAND ADULT SINGLES SEMI-FINALS
ULSTER V MUNSTER…
Friday March 8th at Beragh, Tyrone 6pm
Minor Singles – Gabhainn McCrystal Tyrone v Colin Crehan Clare
Saturday March 9th at Cappagh, Limerick 2pm
Under 21 Singles – Jamie Lynch Clare v Terry McElvaney Monaghan
Ladies Junior Singles – Sarah Flavin Limerick v Anna Madine Down
Golden Masters A Singles – John Herlihy Cork v Thomas Maguire Antrim
Saturday March 9th at Liscarroll, Cork 2pm
Ruby Masters Singles – Dan O Brien Cork v Seamus Graham Antrim
Junior Singles – Shane Hedigan Cork v Barry Devlin Tyrone
Saturday March 9th at Broadford, Limerick 5pm
Emerald Masters A Singles Tom O Brien Limerick v Anthony Caddell Antrim
Silver Masters B Singles – Denis McCarthy Limerick v Kenny Curran Tyrone
Saturday March 9th at Cashel, Tipperary 6pm
Ladies Junior B Singles – Aoife Landers Waterford v Niamh Farrell Monaghan
Masters A Singles – David Moloney Tipperary v Niall Kerr Tyrone
Sunday March 10th at Beragh, Tyrone 1pm
Ladies Minor Singles – Maeve McElduff Tyrone v Martina McMahon Limerick
Over 35B Singles – Rory Grogan Tyrone v Dale Cusack Cork
Intermediate Singles – Shane O'Neill Tyrone v Ger Coonan Tipperary
Sunday March 10th at Glenbeigh, Kerry 1pm
Over 35A Singles – Dominic Lynch Kerry v Ricky McCann Antrim
Diamond Masters B Singles – Dave Stack Cork v Robbie McMahon Antrim
Sunday March 10th at Loughmacrory, Tyrone 2pm
Ladies Intermediate Singles – Lisa McAleer Tyrone v Lisa Loughnane Clare
Junior B Singles – Mark McCullagh Tyrone v John Casey Cork
Sunday March 10th at Eugene Quinns, Armagh 2pm
Diamond Masters A Singles – Michael McCarron Monaghan v Paddy Buckley Cork
Silver Masters A Singles – Paddy Crothers Antrim v Pat O Flaherty Tipperary
Sunday March 10th at Saval, Down 2pm
Court 1 (Glass)
Emerald Masters B Singles – Brian Havern Down v Sean Daly Cork
Masters B Singles – Tom Savage Down v Martin McInerney Tipperary
Court 2 (Block)
Golden Masters B Singles – Sean McNally Down v Pat Ryan Tipperary
Over 70 Singles – Des McNeill Down v Pat O'Brien Cork