Provincial One Wall Handball Event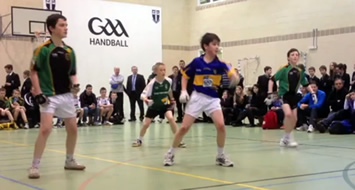 The climax of the Ulster Schools One-Wall Championships took place in St Ciaran's College, Ballygawley on Friday 22nd march, with St Macartan's College Monaghan claiming the honours on the day.
The concept, coordinated by Ulster GAA's RDO's, in conjunction with GAA Handball, is a direct result of the growing number of schools in the Province erecting One-Wall courts in their sports halls. Having established a 1st & 2nd Year championship in late 2012, the past two months have been geared towards the older 3rd & 4th Year pupils, with county blitzes in each county providing the top teams with a passage through to the Ulster Finals day.
Friday's final saw St Macartan's Monaghan face off against Holy Trinity College, Cookstown, in a battle of an experienced Handballing school against relative newcomers to the game. The format sees two doubles pairings play a single game to 21 aces, with one point available per match. After both doubles games, the schools were tied level and thus a tiebreaker ensued. Both schools nominated a singles player to play one game to 11 aces, and what a final it was. With St Macartan's leading 10-7, HTC produced an incredible retrieval, and with the momentum on his side, leveled the game at 10-10. With a point available per rally throughout the tournament, it was down to the winner of the last rally to claim victory, and again after a long rally, St Macartan's prevailed to a standing ovation from the crowd who were delighted with the quality and excitement of the final.
To view a video clip of the event see below:
[vimeo]http://vimeo.com/62684270[/vimeo]