'Have a Go' at Gaelic Games at the WPFG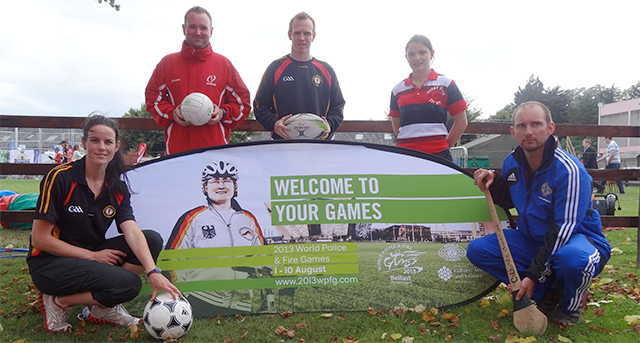 The rain stayed away for the Opening Ceremony of the World Police and Fire Games held at the King's Hall on Thursday 1st August. Ulster GAA, along with the I.F.A and I.R.F.U. Ulster Branch offered members of the public a chance to try their sports, as part of the festivities.
People of all ages and walks of life were given the opportunity to "have a go". Often the first time many of them held a hurl or kicked a Gaelic football. Competitors from other countries were enthralled and many specifically sought-out the GAA station as they had heard about the GAA back in their own countries.
The three governing bodies have an established relationship through the DSD Sport in the Community project, and have been working for many years together through the Game of Three Halves. The invitation to be a part of the Opening Ceremony came from SOS Bus was welcomed by each Association. SOS Bus are a charity organisation which helps people stay safe on the streets of Belfast during night time hours when services are reduced.
During the World Police and Fire Games there will be competitions in Handball, Gaelic football and Ladies Gaelic football. Handball competitions are taking place at Queens P.E.C on Wednesday 31st July, Friday 2nd and Saturday 3rd August. Ladies Gaelic football will take place at the Dub Playing Fields on Saturday 3rd August, with the Men's competitions taking place at the same venue on Saturday 3rd, Wednesday 7th and Thursday 7th August.
Photo Caption: Representatives from Ulster GAA, the I.F.A and I.R.F.U Ulster Branch who provided "Have a Go" stations for the charity SOS Bus at the Opening Ceremony of the World Police and Fire Games.