Club Conference will prepare clubs for new funding pot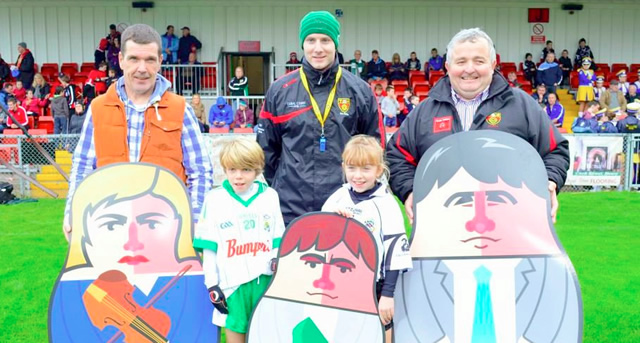 Gaelic Clubs across Ulster are being urged by the Ulster Council to get ready for a new round of capital funding, which is expected to open in the New Year.
Ulster GAA President Martin McAviney said, "We hope there will be a new pot of government funding opening for sports capital projects in the six counties in the New Year and Ulster GAA is keen that all clubs with plans in place are ready to apply for this funding. Details are not yet clear about how much will be available or what type of projects will be eligible however we are urging our clubs to be in a state of readiness.
"A key event to prepare for this funding and other opportunities that may arise is the 2013 Irish News Ulster GAA Volunteer Conference – Club Together which will take place on Saturday 9th November in the Glenavon House Hotel in Cookstown.
"This conference will prepare club officials for progressing through Club Maith, putting good governance in place, raising funds, profiling your club through social media, promoting culture and heritage, encouraging healthy lifestyles and ensuring your club is the centre of your community.
"This is a not-to-missed conference for club officers who wish to raise their clubs' to the highest level. There will be plenty of examples and interaction from high profiled GAA personalities across Ulster telling stories of how things are done in their clubs. And there will be much to be learnt within the workshops.
"This conference will be a celebration of the club and club volunteers and we have no doubt that this is going to be a great conference. The message to clubs is fill up your car and make this a day out for your club officers."
The bi-annual conference is always a very popular date in the Ulster GAA Calendar and clubs and individual Gaels are urged to sign-up for this conference as soon as possible to avoid disappointment.
A limited time offer is still available for clubs who wish to attend the conference: Bring a carload of club delegates to the conference for £60/€72 – that's 5 delegates for the price of 4. Registration fee includes: a free copy of the Irish News, admission to conference, specially commissioned Ulster GAA gift, lunch and healthy refreshments throughout the day.
For individuals wishing to attend, the conference is priced at £15/€18.
Club officers across all codes are encouraged to attend to include Gaelic Football, hurling, Ladies Gaelic, Camogie, Rounders and Handball.
Speaking on behalf of the conference sponsor, The Irish News Editor Noel Doran said, "We want this conference to be a celebration of the many different types of volunteers involved in our clubs. The list of speakers and workshop facilitators is looking very impressive and we have no doubt that this is going to be a great initiative for the GAA in Ulster."
An impressive list of speakers and workshop facilitators will be announced next week with delegate admission very limited so people are urged to register today. To register contact Fionntan O'Dowd on 02837517 180 or email conference.ulster@gaa.ie
Photo caption: Club Volunteers at the Down Club Final promote the 2013 Irish News Ulster GAA Volunteer conference – Club Together, which takes place on Saturday 9th November in Glenavon Hotel, Cookstown. For more information contact Fionntan in Ulster GAA on 02837 517 180. Pictured left to right: Paul Rooney, Conor O'Toole and Malachy McCourt with two young club players.