Ulster Scór na nÓg Semi-Final News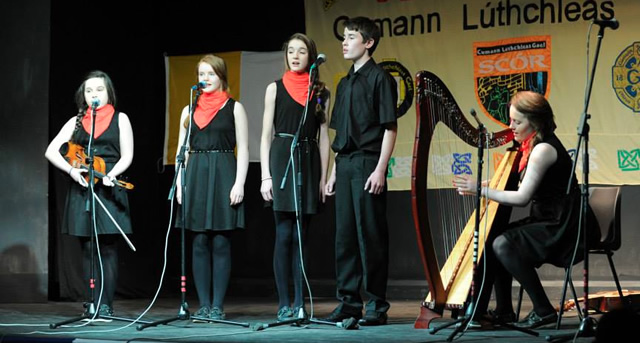 Tionóladh an trí imeacht leath-cheannais Uladh de Scór na nÓg i mí na Nollag agus chonacthas arís go bhfuil ardchaighdeán ceoltóirí, amhránaithe, aisteoirí agus damhseoirí óga sa chúige.
The first Ulster semi-final of Scór na nÓg, sponsored by Gaelic Life, was held in St Joseph's Parish Hall, Dunloy, on Saturday 7 December. Ard Mhacha acts qualified in the first three categories, but in a late rally performers from An Dún clubs won out in the remaining four contests. Alas for the host county, no Aontroim clubs got through on the night.
After a late switch of venue, St John Bosco Centre, Baile Dhún na nGall, hosted the second semi-final on Friday 13 December. Doire clubs were the runaway successes on this occasion, prevailing in six of the seven categories. Only in the newly rebranded 'Léiriú' dramatic contest did a club from Dún na nGall (Buncrana) qualify. Fear Manach, which sent forth just four acts, did not record any success on the night.
The third and final semi-final took place at Killeshandra the following evening, Saturday 14 December. This was the most keenly contested of the three semi-final events, with full participation in each category. Three acts each from Muineachán and Tír Eoghain qualified, plus one from An Cabhán.
The final will be held at Béal Átha an Airgid / Silverbridge in January, on a date to be confirmed. The list of final participants is as follows:
Rince Foirne: An Chrois Bhán (Ard Mhacha), An Gleann (Doire), An Ómaigh (Tír Eoghain)
Amhránaíocht Aonair: Blathnaid McCaughley, CLG De Bhuilbh Tóin agus Naomh Éanna (Ard Mhacha), Therese Mellon, Sleacht Néill (Doire), Loinnir McAliskey, Doire Trisc (Tír Eoghain)
Aithriseoireacht: Tara Ní Anluain, Dromainn Tí (Ard Mhacha), Maebh McGirr, An Gleann (Doire), James Cartwright, Corr na Féinne (An Cabhán)
Ceol Uirlise: Rinn Mhic Ghiolla Rua (An Dún), An Seanmhullach (Doire), Driom Thamhain (Muineachán)
Léiriú: Caisleán Ruairí (An Dún), Bun Chranncha (Dún na nGall), Cláirsigh Mhuineacháin
Grúpa Bailéid: N. Pádraig, Sabhall (An Dún), Leamhaigh (Doire), An Ómaigh (Tír Eoghain)
Rince Seit: An Dún – Baile Uí Thuathaláin (An Dún), An Gleann (Doire), Driom Thamhain (Muineachán)
Photos from all 3 semi finals can be viewed on the Ulster GAA Facebook page at www.facebook.com/UlsterGAA