Scór na nÓg Ulster Final set for Silverbridge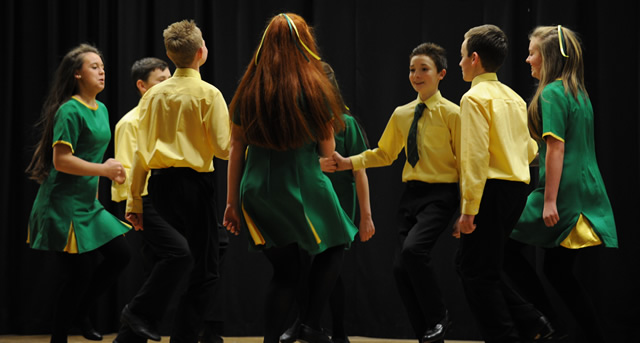 Beidh 'an scoth de Shatharn' ar 25 Eanáir i mBéal Átha an Airgid, áit a thionólfar babhta ceannais Uladh Scór na nÓg.
The Ulster final of Scór na nÓg this Saturday, 25 January, promises to be a most entertaining and exciting evening. Silverbridge, a renowned centre of Scór activity, will showcase the leading juvenile talent in the province in Irish dance, music and drama.
Only two of last year's Ulster champions, Droim Thamhain (Muineachán) in the Instrumental Music category and An Chrois Bhán in Céilí Dancing, will be defending their titles on the night. An Ómaigh and An Gleann (Doire), who top the Ceilí roll of honour with ten and six provincial titles to their names respectively, will provide formidable opposition.
The busiest contestant on the night will be Méadhbh Nic an Ghirr of An Gleann, who will take part in Recitation as an individual contestant, and also as a team member in the Céilí and Set Dancing categories.
Although the Novelty Act category has been replaced by 'Léiriú', Caisleán Ruairí / Rostrevor remain a leading contender, appearing in a third consecutive final and having previously won in 2012.
The absence of Crois ar Loch (An Cabhán), who won the last seven consecutive provincial Set Dancing titles, will leave the field wide open. But the biggest difference from previous provincial finals will be the removal of Tráth na gCeisteanna from the event, with county quiz champions having qualified directly for an All-Ireland event,
Áine Uí Choinn will act as Bean a' Tí, and the event will commence at 7.00 pm.
The full list of contestants is as follows:
Rince Céilí: An Chrois Bhán / Whitecross, An Gleann / Glen (Doire), An Ómaigh / Omagh
Amhranaíocht Aonair: Treasa Ní Mhealláin (Sleacht Néill / Slaughtneill), Loinnir Nic Conuisce (Doire Triosca / Derrytresk), Bláthnaid Nic Eachmhaile (CLG de Bhuilbh Tóin / Wolfe Tone's)
Aithriseoireacht-Scéalaíocht: Séamas Mac Cartraí (Corr na Féinne / Cornafean), Tara Ní Anluain (Dromainn Tí / Dromintee), Méadhbh Nic an Ghirr (An Gleann / Glen, Doire)
Ceol Uirlise: Droim Thamhain / Drumhowan, An Seanmhullach / Castledawson, Rinn Mhic Giolla Rua / Warrenpoint
Léiriú: Caisleán Ruairí / Rostrevor, Bun Cranncha / Buncrana, Cláirseacha Mhuineacháin / Monaghan Harps
Grúpa Bailéid: An Ómaigh / Omagh, Sabhall / Saul, Leamhaigh / Lavey
Rince Seit: An Gleann / Glen (Doire), Droim Thamhain / Drumhowan, Baile Uí Thuathaláin / Ballyholland