Irish Daily Mail Fitzgibbon Cup Weekend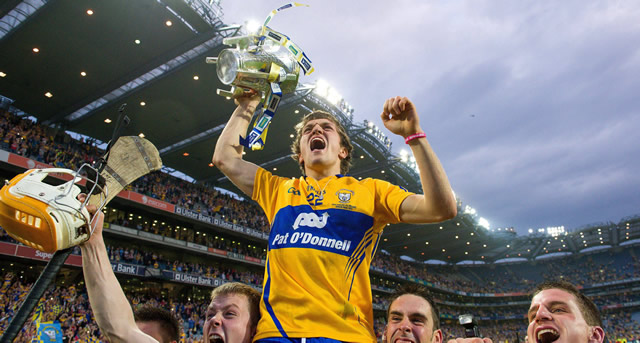 Some of the best hurlers playing the game at the moment will be on view this coming Friday and Saturday for the Irish Daily Mail Fitzgibbon Cup at Queen's grounds at Upper Malone, Belfast (formerly known as The Dub).
As part of the Festival, Queen's would like to invite all clubs to bring their members, young and old, to enjoy a display of hurling from players including:
· Shane O'Donnell (UCC and Clare), scorer of three goals in the All-Ireland final in 2013
· Tony Kelly (LIT and Clare) – Allstar, Hurler of the Year and Young Hurler of the Year 2013
· Seamus Harnedy (UCC and Cork) Allstar in 2013,
· Conor Lehane (UCC and Cork) – played in 2013 All-Ireland final and was an Allstar nominee,
· Lorcan O'Loughlin (CIT and Cork) – played for Cork in the All-Ireland final
· Pauric Mahony (WIT and Waterford)
Also in attendance will be Davy Fitzgerald (All-Ireland winning manager with Clare) who is manager of LIT.
If you would like to bring a group from your Club (U16s admission free) then please emailgaafestival@qub.ac.uk before lunchtime on Thursday (27th Feb) with details of how many will be attending and if you will require parking for minibuses/coaches.
Friday 28th February
Irish Daily Mail HE GAA Ryan Cup 2014 Semi-Final
The Dub 12:30 NUI Maynooth V University of Ulster Jordanstown – Pitch 13
Referee: James Clarke
Irish Daily Mail HE GAA Fergal Maher Cup 2014 KO Semi-Final
The Dub 12:30 Cork Colleges of Further Education V Galway/Roscommon – Pitch 15
Referee: Colum Cunning
Irish Daily Mail HE GAA Corn Padraig Mac Diarmada 2014 Final
The Dub 13:30 Robert Gordon University V Letterkenny Institute of Technology Arena
Referee: Garrett Duffy
Irish Daily Mail HE GAA Ryan Cup 2014 Semi-Final
The Dub 14:00 Institute of Technology V Trinity College Dublin – Pitch 13
Referee: Owen Elliot
Irish Daily Mail HE GAA Fergal Maher Cup 2014 Semi-Final
The Dub 14:00 G.M.I.T. Letterfrack V Institute of Technology Tallaght – Pitch 15
Referee: James McGrath
Irish Daily Mail HE GAA Fitzgibbon Cup 2014 Semi-Finals
The Dub 14:30 Limerick IT V Waterford Institute of Technology – Academy Pitch
Referee: Brian Gavin
The Dub 16:30 University College Cork V Cork Institute of Technology – Academy Pitch
Referee: Alan Kelly
Saturday 1st March
Irish Daily Mail HE GAA Fergal Maher Cup 2014 Final
The Dub 13:00 Winner of Semi-Final V Cork Colleges of Further Education/Galway/Roscommon ETB
– Arena Pitch
Referee: Garrett Duffy
Irish Daily Mail HE GAA Ryan Cup 2014 Final
The Dub 13:45 Winner of Semi-Finals V Winner of Semi-Finals – Academy Pitch
Referee: Alan Kelly
Irish Daily Mail HE GAA Fitzgibbon Cup 2014 KO Final
The Dub 16:15 Winner of Semi-Final V Winner of Semi-Final – Academy Pitch
Referee: James Mc Grath