Physical Literacy 'World Book Day' Style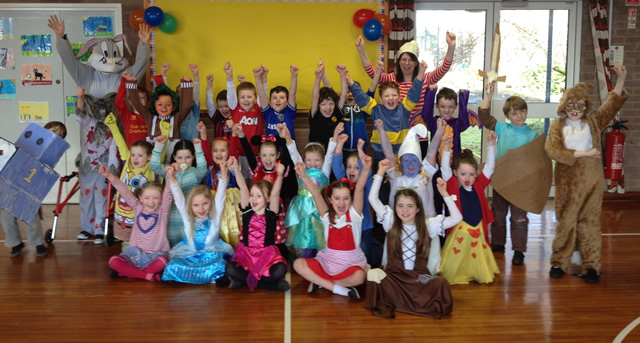 The staff and children of P3 and P4 in St Columbans P.S. Belcoo took World Book Day Fancy Dress to another level recently. All the children and staff took a full part in Physical Literacy lessons with Ulster GAA DENI coach Owen Mooney, while in Fancy Dress.
This lesson was arranged by the teacher, Mrs Anne Murray, and Owen to help in the pupils understanding of being creative in PE and in the classroom.
All the pupils were placed in groups of 4 and they each had to incorporate the equipment given to them to make up a game. Each pupil within the group took an active role which allowed each group to take part in 4 games altogether.
The pupils had to have the skill of kicking within their game, as this is the current theme of the lessons being taken by Owen, Mrs Anne Murray and Mrs Bernie Burns and Mrs Paula McGrath who are teaching assistants within the class.
A great time was had by all and a huge thanks to the children, teachers and staff of St Columbans P.S. in Belcoo for their continued fantastic support of the DENI Physical Literacy Programme.