Ulster Juvenile 40×20 Handball Finals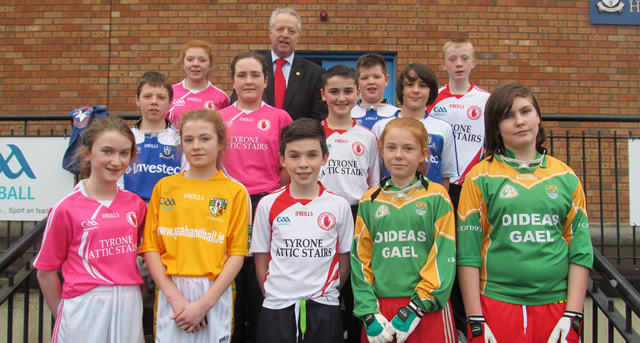 The Ulster Juvenile 40×20 Championship Finals took place in Kingscourt, Co. Cavan on Sunday last as the 2014 Ulster winners were crowned across twenty two different grades. Tyrone were the biggest winners on the Finals Day with thirteen titles. Armagh won four titles, Monaghan won three with Derry & Down came home with one title each. See attached for the full list of results.
There is still two finals to be played and these are down for decision next Tuesday 11th March in Monaghan Harps starting @ 7.30pm.
U14 Singles Justas Dambinskas (Mon) v Ronan Curran (Tyr)
U17 Singles Gavin Coyle (Mon) v Ryan Curran (Tyr)
There was some great games player throughout the day to keep the large crowed entertained. In the Boys U16 Singles Final Sean Kerr (Tyr) defeated Stephen Smith (Cavan) 21-9 & 21-8 in a terrific game. The Girls U16 Singles Final was another great game with Eilise McCrory (Tyr) defeating Aoibhinn Henderson (Arm) 21-12 & 21-18.
There was only two games that went to tie-breaks namely the Boys U16 & U17 Doubles Finals. In the U16 final Matthew McCartan/Pauric Mullan (Tyr) defeated Jordan Murphy/Eoghan Heaney 17-21, 21-2 & 11-4. While the U17 final went down to the last ace with Aaron Owens/Tiarnan McCrystal (Tyr) just pipped James Curley/Conor Mohan (Mon) 16-21, 21-11 & 11-10 in the tie-break.
In the middle of the Juvenile programme there was a Senior Men's Open Quarter Final with Charlie Shanks (Armagh) Ulster Champion and slight favourite faced Brian Carroll (Meath). In the first game Carroll got off to a flier and stormed to an emphatic 21-3 win. Shanks was in no mood to relinquish his All-Ireland ambitions though, and responded to win game two 21-10. The large crowd eagerly awaited the tie-break and they were not disappointed with a great display of how handball should be played which was great for all the juveniles to see. The tie-break was tight at the start but Carroll extended his lead and led 20 game ball 14. But Charlie was not about to let go but aces were hard to get by both players but he fought back to trail 17-20. In the end Carroll prevail with a good kill shot to take the match 21-17.
The Ulster Handball Council and all the Juveniles would like to thank Ulster GAA President Martin McAviney for presenting the medals on the day. Sincere thanks to the Kingscourt club for hosting the finals and providing the catering. Thanks also to everyone who helped to organise and run the event and finally we would all like to thank the referees.
The All Ireland semi finals takes place next Saturday 15th March in Ulster venues.
Download:
– Ulster Juvenile Handball Finals 2014 – Results