Ulster success at All-Ireland Scór na nÓg finals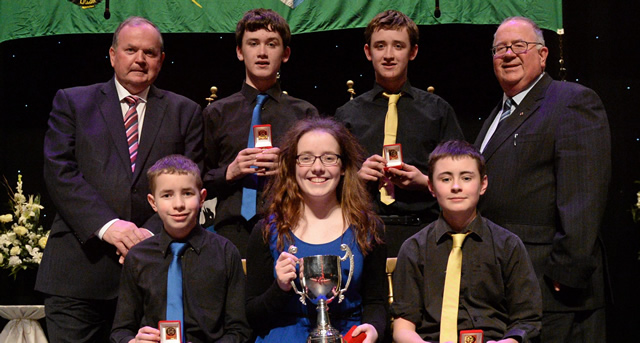 D'éirigh le dhá fhoireann ó chúige Uladh craobhacha na hÉireann ag an bhabhta ceannais náisiúnta de Scór na nÓg i gCaisleán a' Bharraigh, Maigh Eo, Dé Sathairn 1 Márta.
At the All-Ireland Scór na nÓg finals at Castlebar on Saturday last, 1 March, two Ulster acts enjoyed ultimate success.
Droim Thamhain (Muineachán) retained the Ceol Uirlise title won in 2013; and Naomh Columba (Dún na nGall) proved to be the first winners of the new 100-question table-quiz format of Tráth na gCeisteanna. In fact, the quiz was an Ulster-dominated affair, with northern teams finishing in the top three positions and Seán Coll (An Cabhán) asking the questions.
The following were the winners:
Rince Foirne: Na Fianna (Baile Átha Cliath)
Amhránaíocht Aonair: Molly Donnery (Laois)
Ceol Uirlise: Drumhowan (Muineachán) – Pictured above
Aithriseoreacht: Alison Gilmartin (Spa, Ciarraí)
Grúpa Bailéid: Ferbane (Uibh Fhailí)
Léiriú: Borrisoleigh (Tiobraid Árann)
Rince Seit: Spa (Ciarraí)
Tráth na gCeisteanna: Naomh Columba (Dún na nGall) – Pictured below