Ulster Club Football titles for Slaughtneil, Warrenpoint & Rock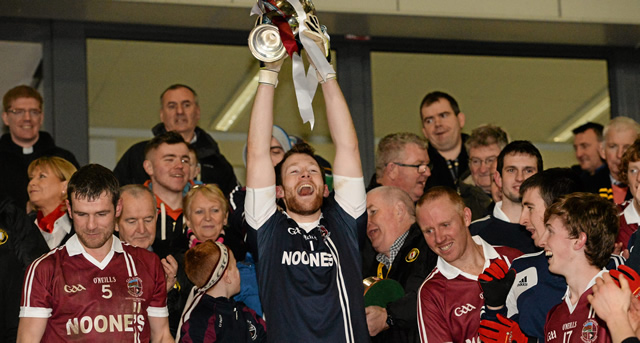 AIB Ulster Club Senior Football Championship Final
Slaughtneil (Derry) 1-10 Omagh St Enda's (Tyrone) 1-9
An injury-time point from Christopher Bradley earned a first Ulster club SFC title for Slaughtneil, who came from four points behind to snatch a heroic victory in the Athletic Grounds on Sunday.
Omagh had led by 1-5 to 1-2 at half-time, and goalscorer Barry Tierney pushed their lead out to four points 20 seconds after the interval. However the Derry champions were vastly improved in the second half, with county midfielder Patsy Bradley in inspirational form, and they drew level at 1-8 apiece with a point from first-half goalscorer Cormac O'Doherty after 47 minutes.
Christopher Bradley, who kicked 0-4 from play, put Slaughtneil ahead two minutes later. Both first-time finalists grew increasingly edgy in the closing stages as the finishing line drew close and Ronan O'Neill's 35m free drew Omagh level again with four minutes to go.
Extra-time loomed but Bradley's long-range point in the second minute of injury time snatched victory for the Derry side.
Omagh had mounted some stirring comebacks on route to the Ulster decider but there was no time to mount a response this time. Slaughtneil began the game as well as they ended it, with a dream start with a goal from Cormac O'Doherty after just 50 seconds before the Omagh defence had a chance to settle.
A long, high ball from Padraig Kelly was well caught by O'Doherty, who beat his marker Hugh Gallagher in the air, and turned to slip the ball beyond goalkeeper Ryan Clarke. The Derry champions were the better side in the opening ten minutes but Omagh, on limited possession, battled with points from lively corner-forward Conor O'Donnell in the fourth and eighth minutes.
A stylish long-range left-footed score from Christopher Bradley helped Slaughtneil lead by 1-1 to 0-2. There was no score for the next ten minutes with both teams dropping men back and making it difficult for both forward lines. Omagh were now the dominant team but hit a few wides before Aaron Grugan hit a superb point from distance after 18 minutes.
Gerald Bradley responded for Slaughtneil in the 20th minute, but that was their last score of the half as Omagh hit an unanswered 1-2 before the break. Hugh Gallagher came up from defence to hit a captain's point before Joe McMahon, who was in the wars in a bruising midfield battle with Derry midfielder Patsy Bradley, kicked another point to draw Omagh level for the first time after 25 minutes.
With Omagh now playing with a lot of confidence, they burst forward again with Conan Grugan driving through the centre of the Slaughtneil defence. He spotted Barry Tierney running on his shoulder and passed to the Tyrone defender who unleashed a superb shot into the far corner of the net leaving the goalkeeper with no chance.
Having trailed to the early goal, Omagh led by 1-5 to 1-2 at the break having also hit seven wides in the opening period. Slaughtneil were the much more clinical side only hitting two wides compared to Omagh's eight, and the Tyrone side also dropped a number of efforts short into the goalkeeper's hands and they were left to rue their wastefulness.
SLAUGHTNEIL: A McMullan; C Cassidy, K McKaigue, B Rogers; F McEldowney, C McKaigue, B McGuigan (0-1); Patsy Bradley, P McGuigan; P Kelly, C Bradley (0-4), R Bradley (0-1); G Bradley (0-1), Paul Bradley (0-1f), C O'Doherty (1-2).
Subs: P Cassidy for Kelly (40), P McNeill for Rogers (42), S McGuigan for R Bradley (47)
OMAGH ST ENDA'S: R Clarke; H Gallagher (0-1), Justin McMahon, S Mullan; C McLaughlin, B Tierney (1-1), C McMahon; Joe McMahon (0-1), C Grugan; A Grugan (0-1), J McAnulla, C O'Neill (0-1); C O'Donnell (0-2), R O'Neill (0-2f), C Meyler.
Subs: J Colton for O'Donnell (49), C Clarke for C O'Neill (54), D Kerr for McLaughlin (60)
Referee: Ciaran Branagan (Down)
Report: Orla Bannon
—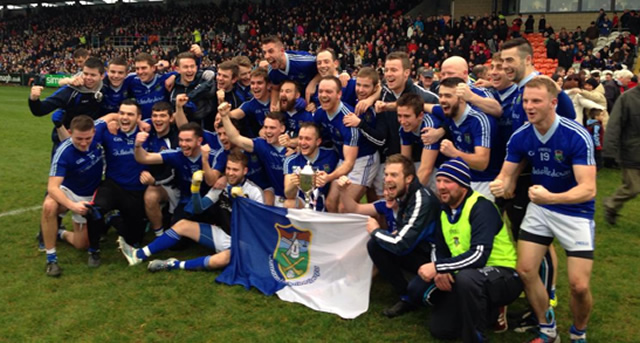 AIB Ulster Club Intermediate Football Championship Final
Cumann Pheadair Naofa Warrenpoint (Down) 1-14 Inniskeen (Monaghan) 1-7
In the curtain raiser to the senior final at the Athletic Grounds, Warrenpoint collected the Ulster Club Intermediate Football Championship when they saw off Monaghan champions Inniskeen.
Warrenpoint started the brightest and points from Donagh McAleenan, Aaron Magee and Ryan McGarry opened up a three point lead before Monaghan champions Inniskeen opened their account on 9 minutes with a Paul Meegan free. Three minutes later, Meegan put his side in front as he found the net after being put through by Michael Fitzpatrick.
The 'Point responded well with 4 unanswered scores from McGarry (2), McAleenan and Ciaran McCartan. Inniskeen responded equally impressively to see out the half in impressive fashion with scores from Gerard McArdle, Paul Meegan (2), and Donal Meegan, as the sides went in level at the interval, 0-8 to 1-5.
Two minutes after the restart Paul Meegan put Inniskeen into the lead for the first time, only to be cancelled out by McGarry. A Ronan Meegan point on 39 minutes edged Inniskeen in front once more, but it was to prove their last score of the game.
Aaron Magee leveled the game in the 43rd minute, then Gary Boyle came off the bench to hit 1-1 within 5 minutes to fire Warrenpoint in front. Now well in control, McGarry added 2 more points, taking his personal tally to 0-8, and a third from Aaron Magee sealed a deserved victory.
WARRENPOINT: C D'Arcy; M O'Hare, R McAleenan, Cormac McCartan; R Magee, J Boyle, R Boyle; R Mallon, Ciaran McCartan (0-1); J Grant, J Cowan, A Magee (0-3); D McAleenan (0-1), J Murchan, R McGarry (0-8, 4f)
Subs: G Boyle (1-1) for Murchan (47), G McMahon for Grant (47)
INNISKEEN: P Dowdall; A Ryan, J Butler, A Keenan; C Meegan, R Lorenz, E McArdle; G McArdle (0-1), M McKenna (0-2); T Hillard, F Duffy, M Fitzpatrick; D Meegan, P Meegan (1-4, 0-1f), S Woods.
Subs: M Lennon for Butler (23). Black Card: R Meegan (0-2) for M Fitzpatrick (13)
Referee: B Cassidy (Derry)
—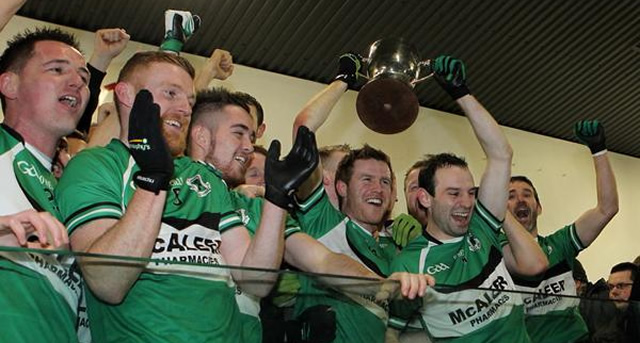 AIB Ulster Club Junior Football Championship Final
Rock (Tyrone) 2-12 Urris (Donegal) 0-7
Backboned by 8 of the side that won the club's first Ulster Club Junior Football Championship title in 2007, Rock eased to victory over Urris in the 2014 decider on Saturday evening at Owenbeg.
Donegal champions Urris battled bravely in the first half, with Donal Kelly and Eddie Kelly doing well in the middle third, but when Donal was dismissed for a black card offence in first half injury time, and Eddie had to retire injured at the break, it was always going to be an uphill struggle for Urris.
At the half-time break, Rock held a slender 0-6 to 0-4 lead, helped in no small part by full-forward Conor McCreesh's 0-4, 0-3 of which from frees.
A minute into the second half, Cathal McWilliams and Eamon Ward combined to set up McCreesh for the first goal of the game to further dampen any hopes for Urris. McCreesh would finish the game with 1-6 and was given a standing ovation as he was withdrawn 2 minutes from full time.
Midway through the second half, James McCreesh fed Eamon Ward to finish into the net from close range, a score which put the result beyond doubt.
ROCK: N Mullan; M McAleer, P Girvan, R Crilly; T Bloomer (0-1), C Gourley, P Ward; M McCreesh, E McWilliams; D Carroll, A Girvan, C McWilliams (0-1); E Ward (1-2), C McCreesh (1-6, 0-3f), J McCreesh (0-1).
Subs: E Mallon for D Carroll (49), M McElduff for J McCreesh (54), L Hoy for P Ward (58), K Kolbolm (0-1) for C McCreesh (60).
URRIS: K Friel; K Doherty, D Devlin, G Doherty; M Grant (0-1), J Cooke, S McDaid; Donal Kelly, Dean Kelly; J Doherty, E Kelly, A Friel; K McLaughlin (0-6, 3f, 1'45), P Devlin, M McLaughlin (0-1).
Subs: B Doherty for E Kelly (ht), J McCarron for J Doherty (49), C Brennan for S McDaid (55), R Doherty for P Devlin (61). Black card: C Bradley for Donal Kelly (31).
Referee: Niall Cullen (Fermanagh)