Ulster GAA Supporting Anti-Bullying Week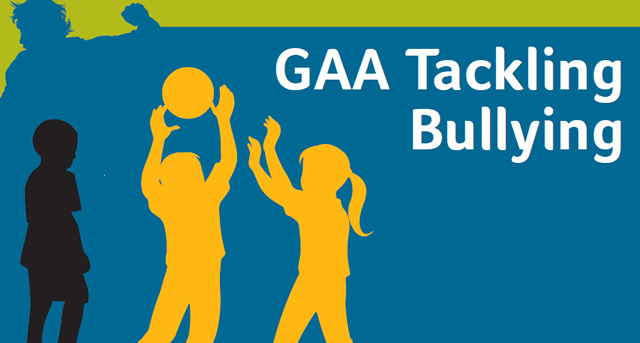 Ulster GAA is supporting this year's Anti-Bullying Week, which will take place from Monday 17 to Sunday 23 November.
The GAA Tackling Bullying Programme is a resource developed and launched by the GAA for assistance at club level in dealing with incidents of Bullying.
Our Games – Our Code, the Joint Code of Best Practice in Youth Sport for the GAA includes the GAA Anti- Bullying Policy, which aims to adopt a whole organisational approach to addressing bullying. We are committed to implementing structures and relevant training to deal with allegations of bullying and incidents of bullying which are regarded as serious breaches of the Code of Behaviour and shall be dealt with accordingly.
The Northern Ireland Anti-Bullying Forum (NIABF) and the Child Protection in Sport Unit (CPSU) are calling on all sports organisations working with children and young people to register now to take part in Anti-Bullying Week. The theme for the campaign is "Together we will make a difference – END BULLYING NOW"; highlighting the role everyone in our society has to play in taking a stand against bullying.
Ulster GAA is encouraging all clubs with youth members to sign up and receive GAA Tackling Bullying posters and resources to promote anti-bullying messages amongst their participants and avail of our GAA Tackling Bullying Workshop. Clubs can also register with the NIABF to receive a free resource pack which includes presentations, sport specific workshop activities and sports posters.
• Download a GAA Tackling Bullying Poster (English Version) here
• Íoslodáil GAA Ag Dul i nGleic le Bulaíocht anseo (Irish Version of poster)
The GAA Tackling Bullying Workshop consists of a two-hour training workshop suitable for Coaches, Parents, Players and other Club personnel and also includes a range of publicity materials for Clubs. This course is a fantastic resource available to all clubs, and during the Two hour workshop, participants will be equipped with tools that will enable them to identify, prevent and resolve incidents of Bullying that may occur in their clubs. This is an issue that causes many problems within our clubs and communities, and we encourage all clubs to formally adopt the Anti Bullying Policy at Club Executive.
This two-hour programme may be run in tandem and complimentary to any other educational and or community anti-bullying initiatives and is suitable for delivery at both adult and under age levels.
For more information about Anti-Bullying Week and to get ideas on how you can take a stand against all forms of bullying, visit the NIABF website www.endbullying.org.uk. To organise a GAA workshop in your club, and to receive GAA resources, please contact your County or Provincial Children's Officer.