Inaugural Conor McGurk Hurling Tournament set for January start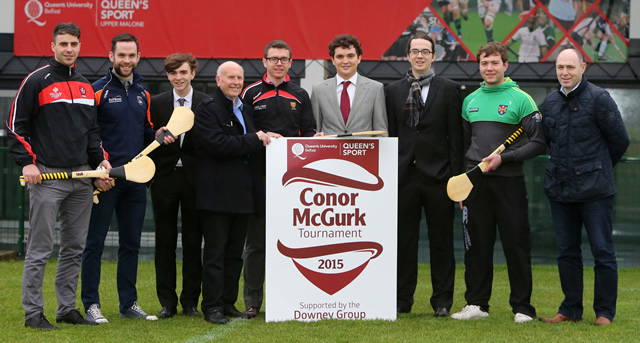 Queen's University Hurling Club have established an invitational pre University Championship / County National League tournament to be played throughout the month of January at the playing fields at Upper Malone (The Dub). The competition, which is supported by Comhairle Uladh, will feature four teams who will compete in a round robin league section during the first four weekends in January. The top two teams will feature in the final on the Arena Pitch at Queen's on Friday 23rd January.
Speaking at the launch of the new tournament, Ulster Council Vice President Michael Hasson said "The Ulster Council are pleased to support this tournament at Queen's. Hurling in Ulster has a need for a pre league competition that can offer our teams the same preparation as the McKenna Cup. We feel confident that the Conor McGurk Tournament will offer that".
Head of Sport at Queen's University Elizabeth McLaughlin emphasised that Third Level Institute were delighted to assist with this new initiative for Ulster Hurling "Conor McGurk has been a tremendous supporter of Hurling at Queen's for many years and we hope that the initiation of this tournament in his memory will be a fitting tribute to his great contribution to the development of the sport at the University."
Friday 2 January at 7.30pm @ Queen's Academy Pitch: Armagh Vs Down
Saturday 3 January at 1.30pm @ Queen's Hurling Pitch: Queen's Vs Derry
Friday 9th January at 7.30pm @ Queen's Academy Pitch: Down Vs Derry
Saturday 10 January at 1.30pm @ Queen's Hurling Pitch: Queen's Vs Armagh
Friday 16th January at 7.30pm @ Queen's Academy Pitch: Derry Vs Armagh
Saturday 17th January at 1.30pm @ Queen's Hurling Pitch: Queen's Vs Down
Friday 23rd January at 7.30pm @ Queen's Arena Pitch: Final
The competition is named to honour the memory of Hurling Club Past Member Conor McGurk, who died recently a young man. Conor read sciences at Queens and was an active member of the university hurling club. He played in two Fitzgibbon finals and was twice picked as goalkeeper on Combined University teams, the highest accolade in Higher Education hurling.
He was always charming, funny and full of great mischief. For Conor life was to be celebrated, especially on the sports field. The friendships he made playing hurling, at St Mary's, in Queens, on the Combined Universities sides and with St John's GAC he maintained throughout his life. He was a leader on and off the field, a devoted family man and role model. A great servant for over 30 years to the club, Conor is greatly missed by everyone associated with Queens hurling.
Photo caption: The McGurk Family launch the Conor McGurk Tournament with Conor Woods (Down), Fegus Donnelly (Queen's), Liam og Hinphey (Derry), Conor Clifford (Armagh) and tournament sponsor Henry Downey (Downey Group).