Féile na nGael 2015 Launched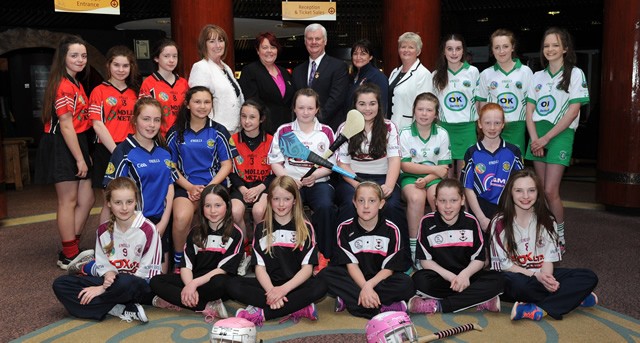 Ulster GAA are delighted to be playing host to the GAA Féile na nGael finals from 19-21 June 2015. The event was launched on Monday 18 May in the Navan Centre Armagh in the company of GAA President Aogán O Fearghail, Ulster GAA President Martin McAviney, Camogie President Catherine Neary and Handball President Willie Roche.
Féile na nGael is an international festival of under-age Hurling, Camogie and Handball for both boys and girls. The four-day tournament for Under-14s, will bring in tens of thousands of visitors to the Province from all over the island and beyond. The competition is sponsored by Irish Pride. The Feile is expected to generate more than 10,000 overnight stays in the region and will generate approx £2 million for the local economy.
Each year as many as 25,000 people will visit this festival representing all of Ireland's 32 counties and overseas units such as London who also participate in this festival. When the preliminary competition is completed in each county, the winning club then travels to the Host County or Province where they are hosted by families and engage the host club in hurling and camogie games.
Since 1971 over one million boys and girls have participated in this great festival. The GAA Féile events have the primary objective of facilitating and enabling the personal, social and cultural development of young people. It also emphasises cultural and community activities, leadership and training through sport. It is recognised by the GAA as a major festival of great importance for the promotion of Gaelic Games among the youth of our country. It also has the full support of the GAA, the Department of Culture, Arts and Leisure, Department of Education, Department of Education and Science, Irish Sports Council, Sport NI and other Government bodies and cultural agencies.
Feile places great emphasis and importance on proper participation, presentation, punctuality and sportsmanship. It reaches throughout the nation by involving the whole community – clubs, schools, social and cultural groups, Gardaí, PSNI bands, civic and religious authorities and families. It helps to bond communities, forge friendships, provide educational opportunities in addition to enhancing participation in both Camogie and Hurling at Club level.
Speaking at the launch, Ulster GAA President Martin McAviney stated, "Ulster GAA is delighted to once again host the Féile na nGael National tournaments. Clubs from across Ireland will descend on Ulster on the weekend of 19th–21 June 2015, when U14 children will compete for the coveted All Ireland Féile title. This is sure to be a great weekend of sport and friendship."