Roe Valley Cuchulainns reach ABC Final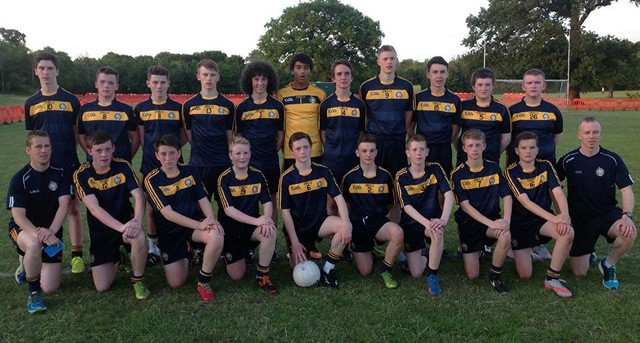 Twenty young men from North Derry travelled to London last weekend to represent Ulster GAA in the All Britain Competition. The Roe Valley team, which is a cross-community Gaelic Football team all of whom are under the age of 16, had five players from the each of following schools; Limavady High School, Limavady Grammar, St Mary's College, Limavady and St Patrick's College, Dungiven.
Having been successful in the Ulster GAA Cuchulainn Cup held in April, preparation for the competition began in June and the team upped their training, coming together over the summer holidays to fine-tune their skills. They also went on a trip to Croke Park where they learned more about the history of the GAA and its iconic stadium.
Speaking at the competition in London, Ulster GAA President Martin McAviney said, "The Cúchulainn Initiative continues to be Ulster GAA's flagship Cross Community Project which uses Gaelic Games to break down barriers and build community relations in the education sector. Ulster GAA is committed to the development of a shared future based on tolerance and respect for the differing cultural traditions that share our community.
"This year we were delighted to include the London trip for Roe Valley Cúchulainns as it provides a unique opportunity to bring together young men from across the different backgrounds to travel and represent their families, their schools, their communities and their county. Many new friendships have been forged during this trip and that really goes to prove the strength of sport in building Peace and Reconciliation."
On arrival in London the team had a training session hosted by QPR at their Imperial College training grounds before heading to Greenford to take on Tir Chonaill Gaels in a challenge game. Friday allowed the boys some down time were they visited Thorpe Park before heading into London to take in some of its famed tourist attractions such as Big Ben, Trafalgar Square and London Eye to mention but a few.
On Saturday the team participated in the U16 Football Championships in Greenford were they met St Kiernan's, St Colmcille's, Naomh Padraig, Parnells, and St Dympna's in the group stages. Having remained unbeaten throughout the group they qualified for the semi-final against St Joseph's were they emerged winners following a strong display. The final was a rematch against their group opponents Parnells, and was a closely fought affair. Having conceded a goal with the final kick of the first half the Ulster lads were 4 points down at the break, however a superb effort in the opening 5 minutes of the second period seen them peg back their opponents to level the game. Unfortunately in the last couple of minutes Parnells converted two brilliant free kicks to triumph on a scoreline of 1-6 to 0-7.
Despite not collecting the Cup, these group of players achieved something very special over their 4 days in London. Not only were they the first Cuchulainn team to reach the final of the ABC's, new friendships had been formed amongst the boys and it is hoped that this togetherness will be maintained and developed in the future years ahead.