Citigroup are Ulster Inter-firms Champions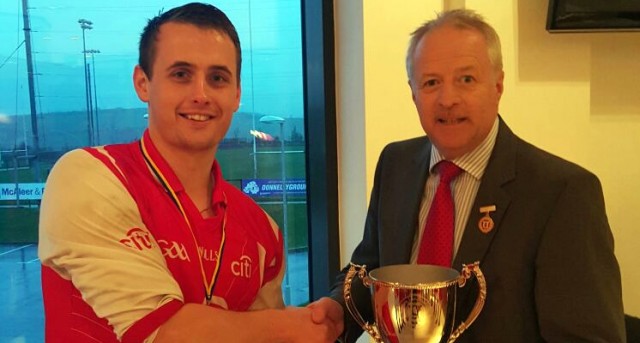 The 2015 Ulster GAA Inter-firms Championship Cup and Shield finals took place on Saturday last at the Tyrone GAA Centre in Garvaghey.
The Companies involved in the Cup were the Fire Service, NI Solicitors, Citigroup, Kingspan and Heron Bros, who battled difficult conditions to produce some excellent football. The Ulster GAA Interfirms Cup winners for 2015 were Citigroup who, after overcoming a difficult run of fixtures, overcame nearest rivals Kingspan in the Final to win the competition.
The Ulster GAA Interfirms Shield competition was fought out between Obelisk and Pramerica, and in the end it was Pramerica who prevailed and lifted the shield.
Many players involved were familiar to GAA fans and indeed ex-Monaghan player and Kingspan employee Tommy Freeman was named Player of the Tournament. Derry player Oisin Duffy, initially thought to be unavailable to Citigroup, was a massive boost to the team and his efforts in the final saw him named Player of the Final.
Tournament organiser, Martin Kennedy is delighted to see the growth of the competition:
"The Ulster GAA Interfirms competition continues to produce marvellous football. I want to congratulate all the companies for taking part. I especially congratulate Cup winners Citigroup and Shield winners Pramerica".
Ulster GAA President Martin McAviney was on hand to present the cups and medals, kindly sponsored by JC May & Co, and he commented:
"At the start of the year Ulster GAA set out to support a successful competition which all Companies in Ulster could compete in. I'm delighted then with the success of the competition. I urge more companies to come forward in 2016 when we aim to make the competition even bigger. I compliment all the Companies who participated in 2015 and I especially wish Cup winners Citigroup and runners-up Kingspan well in the All-Ireland semi-finals, where they will represent Ulster".
Companies that would like to be involved in future Inter-Firms competitions can contact Martin Kennedy at martkenn@gmail.com