GAA Uladh chun infheistíocht a dhéanamh i staidéar na Gaeilge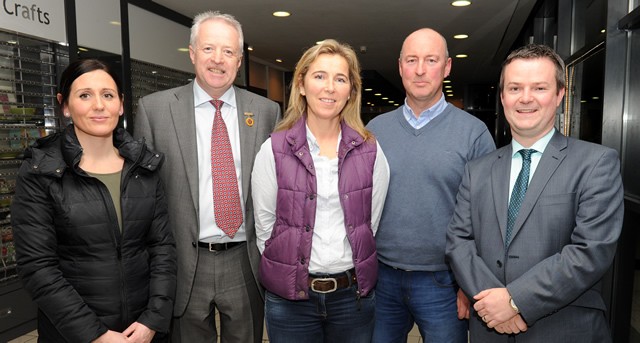 Tá GAA Uladh le leanúint lena dtiomantas do chur chun cinn chultúr agu theanga na hÉireann trí £10,000 a infheistiú le scoláireachtaí a bhronnadh ar 27 Oibrí Dheonacha Club de chuid CLG don bhliain acadúil reatha le haghaidh chúrsa Dioplóma Ollscoil Uladh sa Ghaeilge.
Thug Uachtarán CLG Uladh cuairt ar rang oíche ar an Chorr Chríochach le bualadh leis na scoláirí rathúla. I ndiaidh an turais sin dúirt sé, "Tá lúchár ar CLG Uladh deis a thabhairt arís eile do bhaill chlub de chuid CLG scoláireachtaí a fháil chun staidéar a dhéanamh ar an Ghaeilge. Tríd an tionscnamh seo, an Ghaeilge sa Chlub, táimid ag súil leis go ndéanfaidh oibrithe deonacha club de chuid CLG an grá atá acu ar an Ghaeilge a fhorbairt agus go gcuirfidh siad lena gcuid eolais ar an teanga agus, ar chríochnú an chúrsa dóibh, go dtabharfaidh siad cuid den eolas sin ar ais chun an Ghaeilge a chur chun cinn ina gclub féin agus sa phobal."
"Tá lúcháir ar CLG dul i gcomhar le hOllscoil Uladh sa tionscnamh seo agus guím gach rath ar na 27 scoláire de chuid 'Gaeilge sa Chlub' agus iad ag imeacht ar a n-aistear foghlama."
Dúirt Malachy O'Neill ó Ollscoil Uladh "Tá lúcháir orainn an infheistíocht seo a fháil i mbliana arís ó CLG Uladh, infheistíocht a chuidigh le 27 mac léinn a gcuid táillí a chlúdach. Tá seo ag cuidiú le cur chun cinn an chúrsa agus tá sé ag spreagadh daoine a bhfuil cúlra CLG acu staidéar a dhéanamh ar an Ghaeilge."
—
Ulster GAA invest in Irish Language study
Ulster GAA have continued their commitment to the promotion of Irish Culture and Language by investing £10,000 for scholarships to the Ulster University Irish Language Diploma for 27 GAA Club Volunteers for the incoming academic year.
Ulster GAA President visited an evening class in Cookstown to meet with successful scholars, following that visit he said, "Ulster GAA is delighted to once again offer GAA club members an opportunity to receive a scholarship to study the Irish Language. Through this initiative, Gaeilge sa Chlub, we hope GAA club volunteers will develop their love and knowledge of the Irish language and on completion of their course bring back some of that knowledge to promote Irish Language in their club and community."
"Ulster GAA is delighted to partner with Ulster University in this initiative and I wish all 27 Gaeilge sa Chlub scholars every success as their embark on their learning journey."
Malachy O'Neill from Ulster University said, "We are delighted to have this investment by Ulster GAA again this year, which has assisted 27 students with their tuition fees. This has helped to promote the course and has encouraged those from a GAA background to study the Irish Language."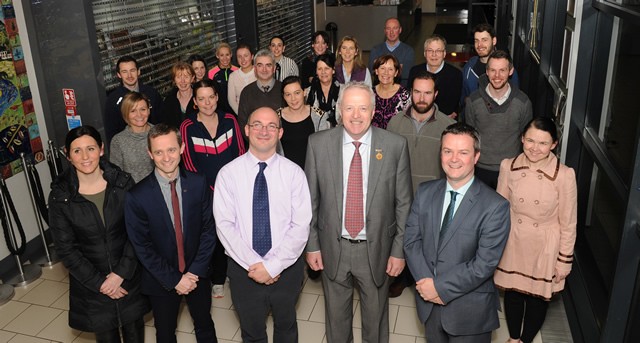 For further information contact Sharon Haughey on (028) 3751 7180.
Photo Captions:
– Ursula Uí Dhonnaile (Irish Language Officer, Mid Ulster Council), Martin McAviney (Ulster GAA), Claire & Paul Sweeney (An Charraig Mhór), Dr Malachy Ó Néill (Ulster University)
– Ulster University Course Team & Ulster GAA President Martin McAviney with scholarship recipients