Ulster Schools One Wall Handball – Huge Success!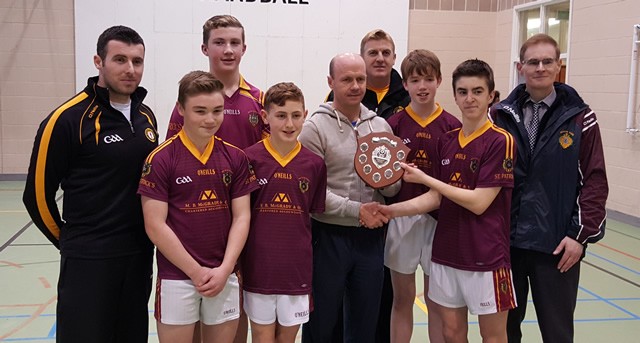 Ulster GAA has hosted another successful Schools One Wall Handball Competition with St Patrick's Grammar, Downpatrick being crowned Provincial Champions 2015.
Ulster GAA President Martin McAviney congratulated all those who participated saying, "The Ulster GAA Schools One Wall Handball Competition is an important event to promote handball to our younger generation and to encourage school children to play this highly skilled sport.
"I congratulate all those who participated in this year's competition, and in particular those schools who qualified for the finals: Beech Hill of Monaghan, Holy Trinity of Tyrone, St Patrick's Grammar Armagh and St Patrick's Grammar Downpatrick.
"This year's competition had a slight change to the eligibility rules where no player who had won any previous provincial or world handball titles could enter. This allowed a more open contest for those interested in starting to play handball.
"The talent and skill on display throughout this competition was exceptional with Beech Hill, Monaghan and St Patrick's Grammar, Downpatrick having to decide the final with a sudden death play-off game. The lads from Downpatrick managed by Martin Murphy were on top form and clinched the title from the Monaghan men."
Peter Canavan along with Ulster GAA Active Club officers Shane McCann and Paul Callaghan presented the trophy and commended all teachers, coaches and pupils for their efforts in a great competition.