Ulster win Inter-Provincial Wheelchair Hurling League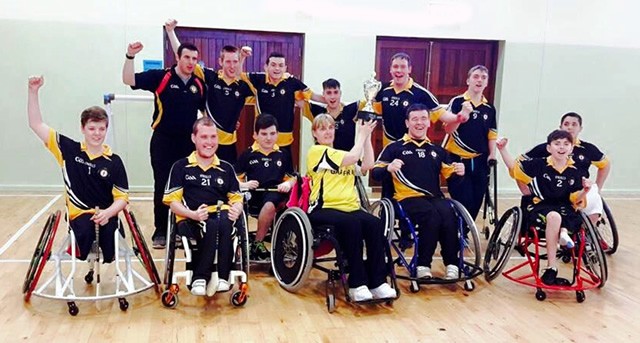 In 2014 the young Ulster team fought hard throughout the season but were unable to secure any victories over the other provinces. After a very successful pre-season tournament in Cookstown in 2015 the players were adamant that they wanted to work really hard to win their first game and then see what happens after that.
Ulster played hosts for the first tournament held in Monaghan; the team came away with two wins against Leinster and Connacht and a draw against Munster. In Carlow the team also played their best hurling to date and came away with two wins and a draw against Connacht to leave them 2 points ahead of Munster going to Castlebar for round three.
In Castlebar the Ulster team were on fire with a few players getting their first ever goals which boosted the team to three wins out of three to leave them 10 points clear going into the final round last weekend in Waterford.
Ballygunner national school was the venue and the Ulster team only needed one win from three to secure the title. Munster needed to win all their games and hope for Ulster to lose all of theirs to allow them to win. Credit to Munster who won 10-3 to the disappointment of the Ulster squad and left things very edgy going in against Leinster but Aaron Gillen and Conn Nagle hit form and got the goals flowing to finally run out winners 8-1 and ensuring that the national league was heading to Ulster. Ulster emptied the bench for the last game v Connacht but lost 5-1, however the hard work had been done and the Ulster team were elated with their achievement and the other provinces were gracious in defeat claiming that the best team had won the league in 2015.
The All Ireland championships are on the 12th December in Dublin and the team will be ready for action.