O'Neill's Ulster GAA 'Growing & Developing Hurling' Conference 2016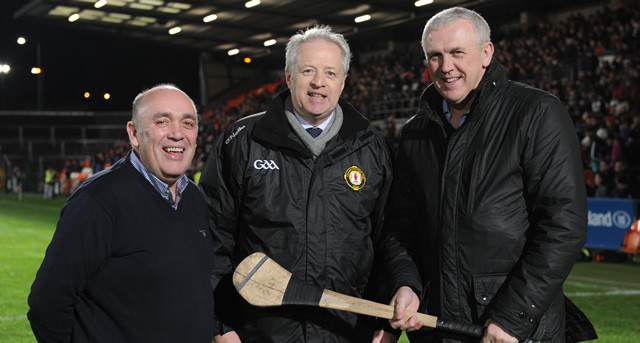 The O'Neill's Ulster GAA Coaching & Games Development Conference will take place on Saturday 6th February 2016 in the Glenavon House Hotel, Cookstown. The theme of this year's conference will be 'Growing and Developing Hurling in Ulster' and will focus on the essential ingredients required to develop the game at youth and adult level in Ulster.
The conference has been sponsored by O'Neill's for the past 12 years and has provided Ulster's coaches with an immeasurable wealth of information and guidance that has been utilised to develop Gaelic games at all levels.
While this year's conference will focus on developing and growing the hurling and camogie codes, many of the keynotes and workshops will provide hot tips for all coaches.
Keynote addresses will be delivered by Donal O'Grady (Cork) and DJ Carey (Kilkenny), two men that have performed at the highest level and who will bring a high quality to the day.
A series of practical workshops will also be delivered by high profile coaches and professionals from across Ireland including:
• A video comparison of Munster and Ulster Hurling – Damien Young (Video Analyst with Tipperary Senior Hurlers)
• Managing the load of the multi-panel inter-county player – Ross Corbett (Strength & Conditioning Coach with All Ireland U.21 Champions, Limerick)
• Developing From U.14 Club to County Academy Squad – Paudie Butler
• Preparing to win at Camogie – Kelley Fay (Sports Institute NI)
• Skill Development for the Talented Player – Damian Curley (Galway Senior Hurling Coach 2015)
• Starting on the Front Foot – Mental Preparation for Peak Performance – Chris Lynch (Performance Phychologist and Personal Development Coach)
• Playing Games to Develop Hurling – Michael Glover & Ruairi Convery (Ulster GAA Regional Hurling Development Officers)
• Valuing players in the Present to Retain them in the Future – Mary O'Connor (National Director of Camogie Development)
Coaches are advised to book their places early as we are usually fully booked out well in advance of the conference.
Delegate Costs are £25/€30 and include lunch and a delegate pack.
To book your place now visit www.ulster.gaa.ie/coachingconference2016
Photo Caption: Pictured at the launch of the O'Neill's Ulster GAA Growing & Developing Hurling Conference 2016 are Kieran Kennedy, Managing Director of conference sponsors O'Neill's Sportswear, Ulster GAA President Martin McAviney and Ulster GAA Director of Coaching & Games Development Dr Eugene Young.