Ulster teams in Inter-Provincial Semi-Finals Action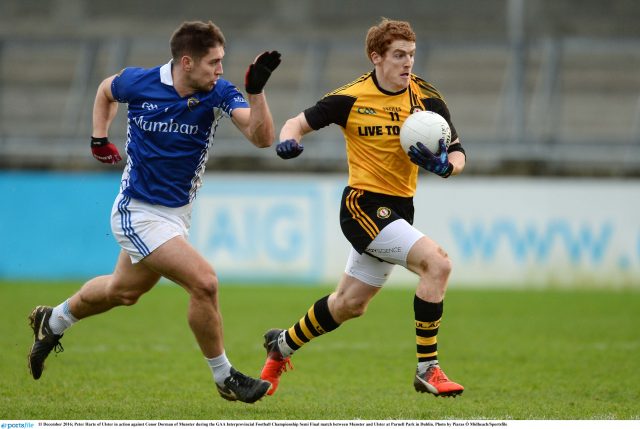 Inter-Provincial Football Semi-Final
Ulster 3-17 Munster 1-15
Peter Harte showed all his class at Parnell Park with 1-8 to secure Ulster's Inter-Provincial Final place.
Pete McGrath's side will take on Connacht in the decider and will fancy their chances of a 32nd title on the basis of this strong display.
They did stutter early on, but effectively wrapped up the semi-final win with an unanswered scoring burst of 2-7 in the second quarter of the game.
Aidan Breen and Enda Lynn scored the goals in that period while Tyrone talisman Harte added their third from the penalty spot at the death.
Stefan Campbell of Armagh was excellent too and kicked five points from play as well as playing a key role in winning the penalty and earning a number of frees that were converted by Harte and Tomas Corrigan.
Ulster struggled initially and fell 0-4 to 0-1 and 0-5 to 0-2 down in the opening quarter as Paul Whyte, a late addition to the Munster team, helped himself to three points.
Kerry's Tommy Walsh, who left the Kingdom panel earlier in the year, also contributed a point though things soon turned sour for Ger O'Sullivan's Munster outfit.
They only added one more score, a converted free by Whyte, for the rest of the half as Ulster weighed in with that 2-7 burst.
It was all Ulster for around 15 minutes and Breen sparked them into life with a neat goal when he slid a low shot past Evan Comerford following a Connor McAliskey pass.
Munster struggled to cope with Ulster's direct running and conceded a series of frees that Harte easily converted.
Campbell scored two eye catching points from the left wing and their second-goal in injury-time put them in the clear.
Lynn's strike was a beauty and McAliskey was again the provider before the Derry man chipped expertly over a defender and the Munster 'keeper to the top corner of the net.
Munster trailed 2-9 to 0-6 at the break and were without captain and Kerry man Aidan O'Mahony who was black carded approaching half-time.
Munster were better after the restart and outscored Ulster by 1-3 to 0-2, the goal coming from Clare's Jamie Malone, to reduce the gap to just three points after 43 minutes, 2-11 to 1-11.
Ulster finished the game strongly though and Harte nailed some cracking scores to help reassert Ulster's authority.
The penalty award came after great work by Campbell who set Mark Bradley free and when he was hauled down by Colm O'Driscoll, Harte did the rest to leave Ulster with a slightly flattering eight-point win.
Scorers for Ulster: P Harte 1-8 (1-0 pen, 4fs), S Campbell 0-5, T Corrigan 0-4 (2fs), E Lynn 1-0, A Breen 1-0.
Scorers for Munster: P Whyte 0-4 (3fs), J Malone 1-0, D Tubridy 0-3, I Corbett 0-2, G Brennan 0-1, T Walsh 0-1, B Fox 0-1, K Sexton 0-1, R Deane 0-1, C Sweeney 0-1 (f).
Ulster: N Morgan (Tyrone); D O'Hagan (Down), K Clarke (Cavan), M Jones (Fermanagh); T McCann (Tyrone), C Moynagh (Cavan), A Breen (Fermanagh); E Donnelly (Fermanagh), C Vernon (Armagh); K Niblock (Antrim), P Harte (Tyrone), E Lynn (Derry); S Campbell (Armagh), C McAliskey (Tyrone), T Corrigan (Fermanagh).
Subs: M Bradley (Tyrone) for McAliskey (38), R Johnston (Down) for Lynn (43), N Sludden (Tyrone) for Moynagh (43), T Kernan (Armagh) for Niblock (46), D McCusker (Fermanagh) for McCann (50), G McGovern (Down) for Jones (59), McAliskey for Bradley (60), C Snow (Fermanagh) for Morgan (62).
Munster: E Comerford (Tipperary); K Hartnett (Clare), A Campbell (Tipperary), T O'Gorman (Waterford); I Corbett (Waterford), C Dorman (Cork), C O'Driscoll (Cork); G Brennan (Clare), A O'Mahony (Kerry); J Malone (Clare), P Whyte (Waterford), K O'Driscoll (Cork); E Cleary (Clare), T Walsh (Kerry), C Sweeney (Tipperary).
Subs: D Tubridy (Clare) for Cleary (20), P Hurney (Waterford) for Sweeney (20), B  Fox (Tipperary) for K O'Driscoll (28), D Treacy (Limerick) for O'Mahony (29, black card), R Deane (Cork) for Brennan (h/t), K Sexton (Clare) for Whyte (h/t), Brennan for Malone (39), K O'Driscoll for Walsh (44), Sweeney for Hurney (50), M  Quinlivan (Tipperary) for Treacy (54), C Hendrick (Tipperary) for Comerford (59).
Inter-Provincial Hurling Semi-Final
Munster 3-21 Ulster 0-15
Tipperary stars Seamus Callanan and Mikey Breen combined for 2-8 as Munster defeated Ulster and progressed to a GAA Inter-Provincial Hurling Final clash with Leinster.
Callanan played a captain's part, registering 1-7 as Munster ran out comfortable winners.
Breen's first half goal helped to separate the sides at the break before Munster, managed by former Clare star Anthony Daly, pulled away in the second period.
Callanan, All-Ireland final man-of-the-match against Kilkenny in September, netted in the 40th minute following a defensive error before Waterford's Bennett brothers combined for a goal in stoppage time, Shane providing the assist for Stephen to finish.
Munster led by 1-10 to 0-7 at half-time, two Barry Nash points after his introduction opening up a six-point interval margin approaching the break.
For much of the first half, it was Breen's third-minute goal that effectively separated the teams as Ulster battled gamely.
They had a fine first half performance from Armagh's Conor Corvan, a late call-up to the starting line-up who registered three points from play before the break.
But Munster, overall, had the experience in their side to keep their opponents at arm's length.
Callanan, operating at full-forward and captaining the Munster team, had four pointed frees in the first half, with Tipperary team-mate Breen adding a point to his early goal.
Aside from Corvan, Antrim's Ciarán Clarke was another to show up well for Ulster in the first half, scoring three of his four points from placed balls.
Munster outscored Ulster by 2-11 to 0-8 after the break to book their place in the decider.
Scorers for Munster: S Callanan 1-7 (6fs), M Breen 1-1, B Nash 0-4, Stephen Bennett 1-0, J O'Dwyer 0-2, D Byrnes, T Murnane, S Dowling, P Maher, D Reidy, Shane Bennett and D McCormack 0-1 each.
Scorers for Ulster: C Clarke 0-7 (6fs), C Corvan 0-3, C O'Prey 0-2 (1f), D Cullen, N McKenna and C Woods 0-1 each.
Munster: A Nash (Cork); B Coughlan (Waterford), J Barry (Tipperary), N Connors (Waterford); D Byrnes (Limerick), C Dillon (Clare), S Fives (Waterford); M Breen (Tipperary), J Barron (Waterford); S Dowling (Limerick), Shane Bennett (Waterford), D McCormack (Tipperary); J O'Dwyer (Tipperary), S Callanan (Tipperary), D Reidy (Clare).
Subs: A Shanagher (Clare) for Dowling (25), B Nash (Limerick) for Shane Bennett (25), Tom Murnane (Kerry) for Barron (h.t.), P Maher (Tipperary) for Fives (h.t.), Stephen Bennett (Waterford) for McCormack (h.t.), Dowling for O'Dwyer (45), Shane Bennett for Reidy (45), McCormack for Breen (51), Fives for Coughlan (55), Barron for Dillon (55).
Ulster: S Keith (Down); S McCrory (Antrim), P Burke (Antrim), J McManus (Down); N McAuley (Antrim), C Woods (Down), C Taggart (Down); E Campbell (Antrim), Ciarán Johnston (Antrim); C Corvan (Armagh), N McKenna (Antrim), D Toner (Down); Conor Johnston (Antrim), J Dillon (Antrim), C Clarke (Antrim).
Subs: C O'Prey (Down) for Ciarán Johnston (26), D Cullen (Donegal) for Toner (33), J Corvan (Armagh) for Taggart (46), A Grant (Derry) for C Corvan (47), P Henry (Derry) for Conor Johnston (49), C O'Connell (Antrim) for Keith (52), C Devlin (Armagh) for Dillon (52), S Renaghan (Armagh) for Cullen (55), Ciarán Johnston for J McManus (56).
Taken from reports for GAA.ie by Paul Keane & Jackie Cahill