Five Ulster counties through to Celtic Challenge Finals
Five Ulster counties are through to the Celtic Challenge Finals which take place on Saturday June 24th at Netwatch Dr. Cullen Park in Carlow.
Ádh mór to Antrim, Armagh, Down, Fermanagh and Tyrone who will represent the Province in the Corn John Scott, Corn William Robinson, Corn Michael Feery and Corn Tom Hogan deciders after winning their respective semi final games –
Division 2 – Corn John Scott
Final – Antrim v North Cork
Semi Final Results
Antrim 2-20 Offaly 2-12
North Cork 3-12 North Tipperary 1-16
Division 3 – Corn William Robinson   
Final – Down v Dublin Plunkett
Semi Final Results
Down 2-17 East Waterford 1-12
Dublin Plunkett 4-20 Limerick City 1-12
Division 5 – Corn Michael Feery   
Final – Armagh v Roscommon
Semi Final Results
Armagh 4-18 Meath Kings 2-8
Roscommon 3-15 Louth 2-12
</P
Division 6 – Corn Tom Hogan
Final – Tyrone v Fermanagh
Semi Final Results
Tyrone 7-9 Kildare Cadets 2-9
Fermanagh 1-13 Leitrim 1-11
Full match report of Down's win over East Waterford in their semi final last weekend below –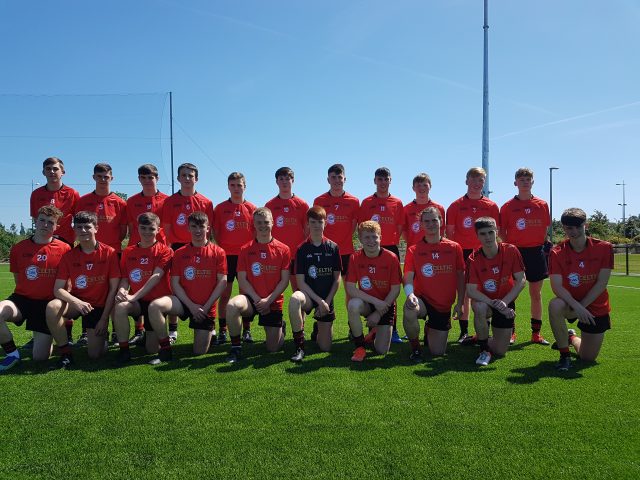 A Man of the Match performance, which resulted in a "Best and Fairest" award, for Ballycran club man Phelim Savage aided by 2-3 from Ballygalgets Tim Prenter saw Down cruise into next week's Corn William Robinson Final in Carlow.
For the second week in a row Down were drawn against a traditionally strong Munster hurling county and produced the goods when asked.
Down went into this fixture with a certain amount of uncertainty, having had their influential centre half forward, Ronan Blair, side-lined from an injury picked up in last week's frenetic encounter with Cork City.
East Waterford, fresh from a three-point thrilling win over North Clare last week would have expected to reach next week's final having come out of a very tough group E section.
In the opening five minutes East Waterford were first out of the blocks and raced into an early lead as Dylan Fitzgerald (twice) & Jack Troy tacked on points for the Déise boys, with Caolan Coulter of Down managing to get his side off the mark with an unopposed strike from fifty metres out.
East Waterford's game plan was to attack the Down rear guard early with fast low ball into their lethal corner forwards of Fitzgerald and Darragh Power, who looked like they could cause the Down lads some serious headaches over the next 50 minutes. Much credit has to be given to Ronan Murphy, Eoin Maguire & Matt McAreavey as once more they proved they can remain calm and resolute when faced with bigger and more imposing opposition.
Down pulled level through Coulter and midfielder Ciaran Watson and by the tenth minute had forged in front with Coulter once more proving to be a thorn in the Déise rear-guard with a long-range point on nine minutes quickly followed by a pointed free a minute later.
Down were guilty of some easy scorable wides throughout the game, none more so than the next five minutes when they had several guilt edge chances of scores, only to see the Waterford lads exert enough pressure to force the nervy forwards into the error. The Déise's Jack Troy was given the opportunity to level matters as Down conceded two easy frees in front of goals. At this point the excitement in the crowd was palpable as both sides threw everything into the mix and it would have been hard to predict a winner, with both sides evenly matched stroke for stroke. Down were quite obviously missing the presence of young Blair in the half forward line and struggled to get some momentum into the game, but being passionately urged on from the side-lines Down started to show the grit and determination that had seen them reach this far as the nerves settled, they hit a purple patch, scoring 1-3 without reply over the next eight minutes.
Ronan Costelloe jinked past David Daniels and slotted his shot over the bar, five minutes later Caolan Coulters attempt for a point was blocked down by Matthew Kiely and with the rebound coming straight back, he kicked the sliotar into the path of Tim Prenter who pulled hard and low to see the sliotar cross the line for the opening goal.
With their tails up Down added a further monstrous long-range strike from Ulster U16 Póc Fada champion Watson to take a 1-6 to 0-5 lead with just over five minutes left to play. Five minutes later Darragh Power sneaked in behind the Down defence and could easily have buried his shot past Eoin McCrickard but, unfortunately for him, it grazed over the crossbar for a point, much to the relieve of the Down side-line.
Tim Prenter was finding it hard to get clean possession so that he could run straight to goal, but things changed with less than three minutes of the half left, having gathered a low pass he turned, headed for goal and from 21 metres out let fly with a drilled shot straight past Niall Power in the East Waterford net. Down were now in the driving seat and although the first half was still a minute away, those in the crowd sensed that this could prove to be the county's biggest achievement in Hurling yet. The first half ended with both teams retiring to the dressing room out of the scorching heat with Down leading by double scores, 2-8 to 0-7.</P
When the second half resumed it was Down who were fastest out of the blocks scoring the next four points, through ever reliable Joe Hanrahan, Tim Prenter (twice) and Ciaran Watson. East Waterford had been hit hard and fast with the intensity of Down's team work and looked shocked at having found themselves eleven points in arrears. Phelim Savage was key to this success and in the absence of Portaferrys' Ronan Blair it was he who was controlling matters in the middle third of the field with some excellent high catches, and intelligent distribution of the sliotar with East Waterford's Sam Flynn & Aidan Gannon finding Savage & Watson a tough combination to break down.
It was Darragh Power who got the Déise boys moving again after four minutes with a well taken point. It took a further ten minutes before the game saw its next score, a Brian Cooke goal, when he slipped his marker to strike past McCrickard. Several minutes later Waterford were desperately unlucky not to have got a second goal which could have seen the Munster lads start a revival as Down seemed to stall with a few easy missed scores. Jack Troy standing just outside the square gained possession, under fierce Down pressure, not having the room to swing his hurl, kicked the sliotar high and wide of the goals, much to the sighs of relieve in the Down camp. Down Response was swift as Costelloe stretched the lead further having made room for himself outside the 21m line.
The Déise's Páraic Hallihan & Jack Troy and Down's Stuart Martin & Cathal Coulter swapped scores as the game entered the final ten minutes. Down then introduced several of their subs, including Blair who tacked on a point just inside the fifty-metre line. The Down substitutions seemed to give the team a fresh jolt of energy as the heat and clammy conditions were clearly starting to take their toll on both sides, having given every last drop to the cause of their respective sides. With five minutes to go it was Padraig Doran who scored the last of Down's seventeen points as Jack Troy did likewise for the Déise lads with time up.
This was a fantastic win for Down, having suffered bitter defeat at the hands of South Kilkenny last year at the same stage of the competition. Afterwards Chairman of the National Hurling Development committee, Paudie O'Neill addressed both sides and thanked them for giving an excellent display of Hurling. He went on to wish Down all the best in the Final next Saturday in Netwatch Cullen Park, Carlow where they'll take on a Dublin Plunkett side who inflicted a heavy 4-20 to 1-12 defeat on Limerick City in the other semi-final.
As part of the Celtic Challenge initiative referee and Clare native Sean Stack presented the Best & Fairest awards to Phelim Savage of Down & Darragh Power of East Waterford.
Down team & scorers:Eoin McCrickard, Matt McAreavey, Eoin Maguire, Ronan Murphy, Liam McCarthy, Cathal Coulter (0-1), Billy Campbell, Ciaran Watson (0-3), Phelim Savage, Joe Hanrahan (0-1), Niall McFarland, Caolan Coulter (0-4), Stuart Martin (0-1), Ronan Costelloe (0-2), Tim Prenter (2-3)
Subs: Ronan Blair (0-1), Rory Brown, Padraig Doran (0-1), Sean Campbell, John Hughes, Owen McGree