Subway Ulster GAA Player Academy Success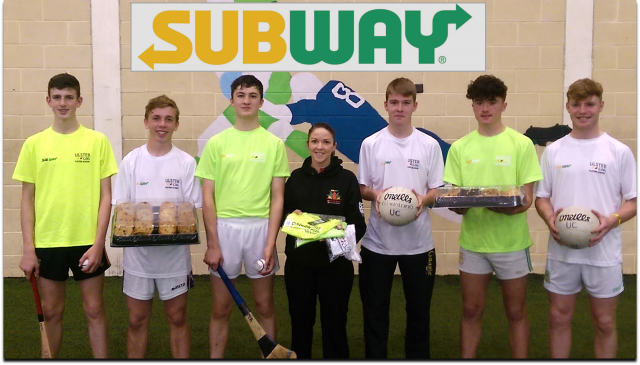 The 2017 Subway Ulster GAA U16 Player Academy Camp took place recently in the High-Performance facilities of the University of Ulster, Jordanstown.
The Player Academy endeavours to bring together the five best Under 16 footballers and hurlers from each of the 9 counties.
Throughout the duration of the Academy Programme these players were exposed to the full menu of interventions that are required at high performance level.
The players were afforded the opportunity to improve their own knowledge in different areas which will ultimately enable them to improve their own game, such as:
Player Welfare
Fitness Testing
Nutrition/Hydration
Anti-Doping Awareness
Recovery Strategies/Activate Warm-ups
Performance Analysis
Resilience Training
In addition, the players were introduced to GPS Analysis and selected players were monitored on distance travelled, high intensity runs and areas of the field covered while playing small and full sided games.
The players were also given the opportunity to experience technical, tactical and team work interventions by Ulster GAA Coaching staff, through group work and field based games.
Each year Ulster GAA invite an appropriate role model who in the past has attended a Player Academy Camp and progressed to represent their county at senior level. In the past, players such as Sean Cavanagh, Neill McManus, Michael Murphy & Simon McCrory have returned to impart their experience to the next batch of rising stars.  This year, high profile Donegal Footballer Ryan McHugh delivered an excellent session that was thoroughly enjoyed by all present.
An indication of the impact that these camps have on our talented young players is provided by the large percentage that have progressed to represent their counties at U-18, 21 and senior level.
We thank Subway for their continued partnership with Ulster GAA and for coming on board this year as main sponsor of the Player Academy.
Photo: Sharon Rogers from the Soul Feet Group of Subway Stores pictured with U16 players from the 2017 Subway Ulster GAA Player Academy Camp.